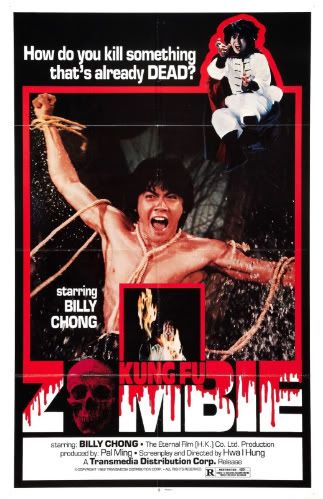 Kung fu horror-comedies were pretty popular at the box office back in the glorious eighties, with titles like Mr. Vampire and Close Encounters of the Spooky Kind making lucrative bank in their theatrical runs.Eternal Films took their own shot at it with Hwa I Hung's Wu long tian shi zhao ji gui(say that five times fast with a mouth fulla beans, I dare ya), known internationally as Kung Fu Zombie, a briskly-paced supernatural mix of Asian blood-spitting magic, vengeful ghosts, supercharged Buddhist vampires, plenty of the martial stuff in-between, and a goodly portion of
"Holy FUCK!"
throughout.Normally, I'm not real big on mixing my genres.When I want horror, I watch horror.If I'm feeling like martial arts, then I throw one in.The one obvious exception to that rule would be
this
movie.Played mostly for laughs of a moronic nature and anchored firmly with a micro-budget, Zombie ended up being something of a hit in Hong Kong, earning HK$ 2,237,587, due to the highly enjoyable straightjacket insanity transpiring within.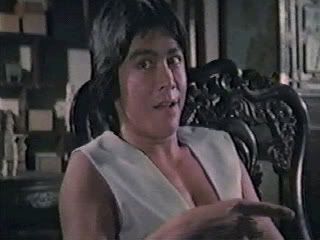 Pang(Billy Chong) just wants his due.Got that? His...due.
Lu Dai(Jeng Kei Ying) is a petty criminal with a debt of vengeance to repay to a wise-assed young martial expert named Pang(Billy Chong), who meddled in his affairs and got him locked up for it.Aiding Dai in his quarrel are a merry band of blundering jagoffs that includes a Taoist priest(Chan Lau) who dabbles in the black arts.Their scheme is nothing if not fucking ridiculous: Lure Pang to the cemetery for a duel, then use magic to reanimate some cadavers to push him into an open grave with a coffin lined with daggers in it.Of course, it fails miserably, with Dai ending up poked full of holes and dead in the box...
and
struck by lightning of the hand-scratched film variety.His ghost, hysterical at the sight of his own mutilated corpse, demands that the fumbling priest find him a new body forthwith.During the body-shopping process, Dai uses his ectoplasmic invisibility to frame the priest in a busy restaurant, using ghost hands to feel up a prostitute, who turns and slaps six shades of spinning shit outta the innocent priest, who tumbles into an incoming Chinese heiffer's fat booze-umms, which he bounces off of repeatedly for optimum comic effect before she falls on top of him the way fat people often do in kung fu comedies.The priest's body-switching ceremonies don't go so well either, when he tries to insert Dai's spirit into a body at the morgue, it turns out the guy just happened to be a martial expert(Kwan Yung Moon) sleeping in a coffin for the fuck of it, until
his
big vengeance duel with the same young hothead Dai is after.Pang's father(Chiang Tao)trains him to endure fights that last two hours or more to be ready for Lung, who Pang cockily sends back to the morgue with precious little fanfare.The priest tries to insert Dai into the fighter's body a second time, but only succeeds in turning the murderous bastard into a full-fledged vampire!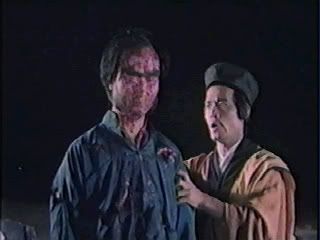 Lu Dai(Jeng Kei Ying), put your old body away.It stinks.
To further complicate matters, Pang's father eats heart-seizing death while getting loaded and playing with the reward money for Lung's body, providing Dai with his final opportunity for a new body(you only get three chances,apparently)and revenge against Pang.The priest only manages to make half-good on his promise, causing Dai, now in Pang's dad's body, to hunt all his brothers-in-crime, who safeguard against him in a number of ways: one gets arrested(ghosts can't cross the law), one becomes a piss-poor excuse for a monk(he's kicked out after frying up a puppy!), and the priest, well, he just wears a leaf hat(!), that makes him invisible to Dai, and ridiculous to everybody else.Meanwhile Lung is rewriting vampire folklore, attacking people during the day, and kicking the heads off of peasants and leaning over the geysering neck stumps like a kid at a high school water fountain, to hungrily gulp down the red stuff(!!).Of course, this all leads up to the final confrontation between Pang and Lung, with the remaining members of Dai's gang trying to pull his spirit out of Pang's father's body in the process.During their supernatual rowdydow, Lung's fists and foot suddenly catch fire as his head starts to smoulder(!!!), with the vampire using them to strike at Pang.Somewhere out of left field, a monk appears and drapes Buddhist prayer beads around Pang's neck, slapping protective holy yellow post-its all over his torso, before pushing him back out into the battle zone.Huh?!!!The vampire's flaming extremities burn away most of Pang's protection, but in the nick of time, the young hero remembers to wrap the prayer beads around the vampire's neck, jump effortlessly into the branch of a tree some twenty-five feet up, strangling the blood drinker while breaking off a piece of branch stump and ramming it repeatedly into the top of the vampire's head, killing him.Whaaaa??!!??Insert four exclamation points here.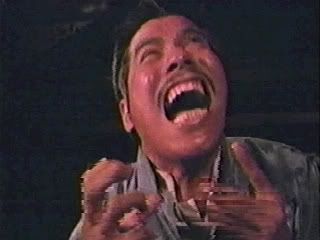 "I'm having dramatic slo-mo chest pains!Where's my Chinese Life Alert?"
Despite some sped up action and chase scenes(for Benny Hill-style comedy hijinks,methinks),Billy Chong is high-kickingly amazing as always, especially when squared off with Kwan Yung Moon, an equally impressive fighter.I should also mention at this point that Cheng Hong Yip played the character of "Hamster"(that's right).You should be able to snag a copy of this one for next to nothing at your local video clearance outlet or FYE, if you can't locate one on Amazon.A restored, remastered special edition is just
crying
to be released some day soon.It deserves no less.On the scale, the highest possible rating for nearly immeasurable laughs and martial arts entertainment.The
right
way to mix kung fu, horror, and comedy.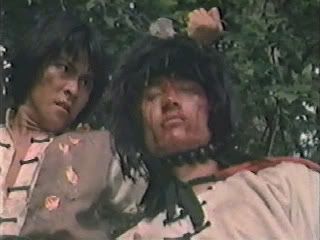 Let's see Van Helsing jump effortlessly 25 feet up a tree, strangling a vampire with buddhist prayer beads, before ramming a tree branch into the top of his head repeatedly.