Having to regretfully decline my invite to the Hoboken International Film Festival this past June due to unforeseeable(translation:suspended license) transportation hassles, I missed out on screening tonight's entry, which nabbed nominations for Best Actress and Best Screenplay(to go along with an official selection in the New Filmmakers New York 2011 Spring screening series, and a nomination for Best Screenplay in the '09 Queens International Film Fest, no less) upon its premiere in Sinatraville, I had no inkling as to how much I was gonna savour basking in the indie glow of its witty brilliance when I'd later check it out.Every once in a while, I'll get a film with a solid foundation that exceeds my expectations going in, reaffirming my faith in moviemaking, and it's safe to put God's in the top tier of that bracket.It's like Shakespeare if Romeo kept severed body parts in canning jars full of alcohol and Juliet was a prostitute that was abused by her stepfather...in other words it
ROCKS
!Not since Gorman Bechard's Psychos in Love(1987) has there been such an efficacious blend of black humour and horror elements packed into one indie feature, I'm here to tell ya.Directors Licata and Charles artfully weave solid on-camera chemistry between its romantic leads, writer/co-producer Josh Folan and Jessica Kaye, around picturesque Big Apple locales in spinning an engulfing and original alt. yarn of love and its oftimes dark extracurriculars.The lush shot selection and filming style might remind some viewers of a hip Supernatural/Vampire Diaries-esque CW series, but this is better than any of that small screen peeper fodder by leaps and bounds.From a genre perspective, the miniscule budget may have sent any chance for quality gore set pieces up in flames, but these guys still manage to pepper their project with a few sparse bloody bits, none-the-less.Overall,I dug it like a robust male Nemesiidae that burrows a y-shaped silk funnel with a wishbone trapdoor into the scorched African soil.Trapdoor spiders are God's creatures too, afterall, so don't give me backsass about my analogies, brats...
Blood spattered blonde, duct tape, plastic tarp, flathead screwdriver...all the ingredients to a magical evening.
We first meet Jon Smith(Josh Folan) as he's inviting an appetizing young blonde in for a nightcap(translation:get roofied, duct taped, and shivved in the labonza repeatedly with a flathead screwdriver over a plastic tarp).Jon's what you might call a 'serial killer'.Then we meet Delia(Jessica Kaye) as she tries to tiptoe out of an abusive situation while her scumbag stepfather(Adam Barnett) snores over the drone of late night tv.That doesn't go too smoothly.As Delia clumsily moves into her sparse new digs, Jon is busy preserving a severed hand he's hacksawed off of his latest vic.Delia calls her younger sister to demystify her disappearance and to remind her that she will be rescued from her dismal living arrangements just as soon as possible.Jon is also a barrista, and while he's succouring cityfolk with their latte needs,
she
strolls in and catches his eye.When she vollies his 'What would you like?' with a witty retort listing everything
but
coffee, his existence of sociopathy and homicide are changed forever.He goes home and places the hand in a jar on his shelf of trophies from his victims, imagining that he's strangling her.Okay, he may be changed, but he's not rehabilitated.He strangles a cheap streetwalker to death with a wire on a park bench.Meanwhile, Delia's turning a fat, balding, middle-aged trick, giving him a lubed handy-ending.Delia's what you might call a 'prostitute'.Back at the coffee shop, the starcrossed duo start to connect, but a call from her sister and one from a potential john put that idea to rest momentarily, but she later puts his initial reluctance to ease and talks him into taking her out for drinks.While the convo flourishes at the bar, Delia's sister slaves subserviently for her tyrannical stepfather.A prolonged goodnight on the stoop has Jon asking himself why Delia isn't dead yet.A hardbodied latina callgirl with a propensity for booger sugar and a head caved in by a meat tenderizer isn't quite as lucky.Back slinging frappucinos at work, he finds himself smitten with Delia when she doesn't stop in.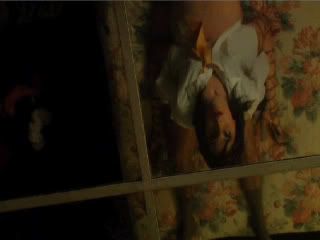 I don't blame her.For me, the mirrored ceilings are the best part.
He hand delivers a cold coffee to Delia and asks, "What if I was some deranged serial killer?", to which she replies, "What if
I
was some deranged serial killer??" You gotta admire this chick's spunk.Cue:Impromptu romantic night on the town montage, complete with skill crane prize and bucket o' movie popcorn.We're then given insight into Delia's stepfather, Sean's workday, riding trains from New York to Philly and back again.Some rough phone convo leads to her thoroughly dominating a morbidly obese and effeminate anti-gay john in a mini-thong(Ha!), who she inanimately rides, shouting at him, "That's right! This is
my
fuckin' ass!" while staring at the mirrors on the ceiling.I dunno, she's a keeper in
my
book.After her unfulfilling trick, she calls Jon, who's decided to ditch his murder-trophies and paint over the blood-spatter, all for Delia's sake.Awwwwwwww.She plans to retrieve her younger sister from her negative environs, when Jon surprises her with a phone call for homemade dinner at his place.They fuck like a pair of howler monkeys hopped up on German libido drops, and she forgets her prior obligation to her sister, who gets raped, and opens her veins in the tub, Nerva-style, directly afterwards.Ooops.As Jon presents her with breakfast in bed, she realizes her faux pas and leaves coldly, telling him matter-of-factly, "Care about me?!!You don't know me." While he painfully pines for her company, she discovers her sister's bloodless body floating in the tub.Brokenhearted, he drowns his sorrows at a local bar, and scores himself a righteously hot bar pig to take home and, uh...well, maybe, choke to death?As he leans back to admire his own handiwork, Delia appears over his shoulder, having seen it all(!).And when you score yourself a copy of this one, you'll be able to find out what happens in the barking mad finale, as I'm not
about
to ruin it for you.
"Where'd this hickey come from, girl? Oh yeah, I gave you that."
Shot over sixteen days in March of 2010 for just under 25 large after the filmmakers scored completion and distribution funds from an IndieGoGo campaign at the start of the current year, the film boasts of an equally impressive soundtrack that adds to the homicidal ambience, with work turned in by California sonic bobby-sox rockers extraordinaire, Des Roar, as well as Molotov Elysian, Car Stereo Wars, Ajar, and The Dangerous Maybes.Needless to say, very choice, indeed.The sexy Jessica Kaye, excellent here as the troubled Delia, has most recently turned up on One Life to Live, while logging credits in Veronika, Decides to Die, and Sostoyanie, as well as extensive stage work off-Broadway.Signore Folan, also stellar as Smith, the sociopath with cartoon hearts in his eyes, has appeared in the lead in Episode 50, which is slated to premiere at this fall's Toronto After Dark Film Festival, as well as scoring a three year gig on All My Children.Together with co-producer Matt Jared, he's succeeded in creating a movie very unlike most of the standard tenets of Hollywood fare, and one that's pretty damned entertaining, at that.I look forward to seeing future projects from these talented young artists.Visit their website
here
, check out their Facebook
here
, and their Twitter
here
, and tell 'em Big Wop sent ya.It's nice to know people still know how to put a good movie together, for serious.On the scale, God's brings home three wops, and like Ramondi's Jap thug tells Chuck Norris about his raped, dead girlfriend, in Forced Vengeance(1982), is "verrrrrrrrry good."Highly recommended.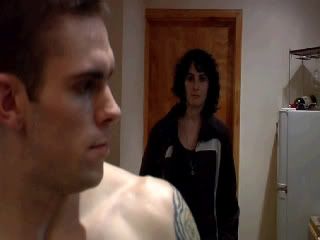 "Can't I even strangle a drunken bimbo in peace?!!"