Ah, the Manhattan House of Detention.I can still smell the rancid bologna and taste the "juice"(translation:flavorless blue filth dosed with salpeter).I fondly remember my two strip searches and bunking next to water bugs so big, I could hear their heart pulsating over the screams of a cracked out Russian tourist cuffed to a cell door.Of course, nowadays its called the South Tower of the 'Bernard B. Kerik Complex' there on White Street, but for me, it'll always be 'The Tombs'.It is in a single cellblock here that is the focus for tonight's entry, the big screen adaption of a workshop production by Miguel Piñero while incarcerated at Sing Sing for armed robbery that went on to win the 1973-74 New York Drama Critics' Award for Best Play, as directed by Robert M. Young, who most recently helmed several episodes of the Battlestar Galactica reboot.Named after the prison slang for a paedophile, the film is a claustrophobic study of the hardships of life on what you might think was the lowest rung of the social ladder, but there are always lower depths to sink to, and justice dealt by urban throwaways often differs greatly(and
violently
) from the mainstream societal version.The film features Bruce "Willard" Davison in what might be the seediest performance of his career; one particular monologue so balls-out grimy, you're guaranteed to be itchy afterwards.Also on board are Piñero himself, singers Curtis "Superfly" Mayfield and Freddy Fender, Joseph Carberry, Juan Guzman, and Bob Maroff, who most will remember as a mafioso caught in DeNiro's sights in the bloodsoaked Taxi Driver finale a year earlier.Mayfield, who leads one fuck of a hokey prison singalong in the film, also provides a soundtrack full of memorable soul gems like "A Heavy Dude" and "Need Someone To Love" over the movie's jive-heavy dialogue, toilet paper knuckle wraps, and obligatory jailhouse male-on-male grab-assing in the showers.The whole production's every frame is hopelessly anchored to the seventies, but still manages to pack several solid shocks to the system, none-the-less.As it stands, Eyes remains one of my favorite prison dramas, fileable somewhere between Scum(1983), Cool Hand Luke(1967), and Chopper(2000).That reminds me, I owe somebody a review of that one...
Unless God's selling some good dope, this cat ain't havin' none of that bullshit.
The fragile harmony(extremely loose usage of the term here) inside one of the cellblocks in Manhattan's 'Tombs' is disrupted by the incarceration of one Clark Davis(Bruce Davison), a nervous middle class honky that may or may not have done something terrible to an innocent little girl on the outside.Shunned by the pick-coiffed Ice(Nathan George) and the black homeboys, the homo-amorous Paco(Shawn Elliott) and the Rican inmates, El Raheem and the pro-black militants, and even Longshoe(Joseph Carberry) and the white minority, Davis is publicly chewed a brand new shitter by Mr. Nett(Bob Maroff), the resident hack who looks forward to the new prisoner's inevitable transfer to Sing Sing, where the men know what to do with 'Short Eyes'.With Davis in general pop, none of the daily rituals hold the same joie de vivre for the inmates.Cupcakes(Tito Goya) is on the fence about being lusted after by half of the cellblock, Pappy(Curtis Mayfield)'s Cumbaya-ish day room singalong hits a sour note when Go-Go(Miguel Piñero) plants a DIY shiv in his bunk, sending him to the hole(earning him a later broken arm and spirited punch up from the whole block), and even Raheem's usual vitriol-fueled anti-white tirades barely merit a toilet paper-wrapped fisticuff from Yacub-spawned Longshoe, bringer of nine thousand nine hundred and ninety-nine diseases that he, no doubt, is.Hell, even the cockroach race doesn't feel the same.Only the level-headed Juan(José Pérez) is willing to ask Davis whether the pending inhuman charges against him are without merit or not, and soon enough, he wishes he'd never asked.Davis confesses that he's not sure if he molested the little girl in question, but spares no detail in confessing a sordid lifetime of kiddie fiddling to the disconcerted young latino.
I think Freddy Fender took that "Wasted Days, Wasted Nights" thing a little too seriously here.
After hearing of Davis' predatory park habits("the little black and Puerto Rican girls were the easiest...") and the real possibility that he might beat the rap and hit the sidewalk to ruin more innocent lives, Juan is burdoned with internal conflict concerning the teary-eyed pederast.Unthinkably, he finds himself taking the tyke toucher's back in a cellblock pow wow against everybody else, even his own people, with the effete Cupcakes even calling for a piece of the incarcerated cat himself, while staving off Paco's sudsy man-love vows in the showers.Juan's reluctance to rush to judgement is not shared by anybody on the block, including the hacks, and he's quickly vetoed by all.A group of the inmates snatch up Davis and spread him out along the day room table, amidst his sobbing pleas and threats to snitch.Raheem is given the impromptu razor shiv as executioner, but despite his innate hatred for all things white, he is ironically unable to bring himself to take the man's life.The Irishman Longshoe has less difficulty in carrying out the penalty phase for Davis' misdeeds, slicing his throat in one comprehensive slash.Nett watches, satisfied, as Davis chokes to death on his own blood, half-heartedly calling for medical assistance after he's sure the predator isn't going to recover.After a half-hearted verbal slap on the wrist from Mr. Allard(Bob O'Connell), it's business as usual on the block, as Cupcakes is released amidst shouts of ownership that echo through the halls.Life goes on, even in jail.
"Heyyyy, that ain't the Loofah, Paco(Shawn Elliott)!!"
After a series of documentaries for Nat Geo and tonight's drama, Young went on to helm the 1986 Farrah Fawcett rape-revenge vehicle, Extremities, as well as the aforementioned Galactica run, five episodes over five years(2006's Unfinished Business and 2007's The Son Also Rises among them, for my roomie and fellow Starbuck advo, Doc).The enigmatic Tony-nominated Piñero allegedly doled out the forty large he earned from tonight's feature to the books of incarcerated pals, and lived on the street, listing a pay phone number as his office contact, scoring roles as several unsavory prison types in movies and television before shuffling off his mortal coil in 1988 due to liver disease.Crazy.Carberry was a familiar television face, himself, also landing roles in the big screen version of Neil Simon's The Goodbye Girl, as well as the pro-Am Chuck Norris feature, Missing in Action, and even Speed.Dedicated woprophiles'll remember Bob O'Connell as the thrift store owner that dimes out Susan Sarandon while she's peaking face in Avildsen's joe(1970).As far as prison pics go, Short Eyes is powerful, thought-provoking stuff, an unexpurgated peek into life as those on the outside rarely glimpse, and a solid cult classic that scores three wops on the ratings scale.Seek it out, I'm pretty sure it'll leave its mark on you.Recommended.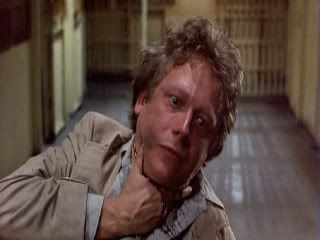 Clark Davis(Bruce Davison) seems to have something stuck in his throat.His hand, I'm guessing.