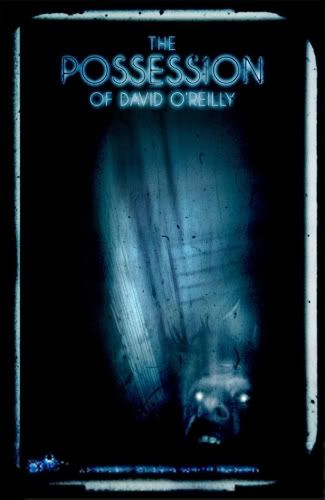 Tonight we'll focus our glassies upon a gloriously grim bit o' business from across the pond, in a similar (erupting)vein as genre fare such as Paranormal Activity and [rec], which owes as much to the style of all things Lovecraftian as it does to the artwork of comic legend Berni Wrightson, in drawing solid scares from the indescribable things that might lurk just outside the light, there in the dark.Adroitly handled suspense, decent makeup effects, and solid acting, especially from Alderson, who plays the titular O-apostrophe pettifoggered by ornery organisms from elsewhere, are all peppered throughout this psychological jump scare-analia, another solid effort overall from the Brits, and not a quotidian moment in the entire motherfucker, I thought, for serious.Of course, for those coming into this one expecting levitating scousers being pelted by holy words n' water while they blaspheme in dead languages and spew soul-bile, you cats are shit outta luck, as there's precious little(translation:none) of that here.The premise is deceptively simple, with few instances of autochthonousity(where the
eff
did I pull that fifty center from?Dammit, I'm noooiice with the funky palabras,
yo
), but efficaciously played within its low budget limitations to make for an amiable excursion into the abhorrence that may or may not exist outside one young man's unbalanced mind.I found myself coming away from the screening(albeit, a very zooted one) with a fondness for the movie, known as 'The Torment' in its native U.K., and its visible enthusiasm, as I'm sure a lot of you woprophiles will also do, if you're genre-weary of the same ol' shambling zombies, franchised sociopaths, and glittery vamps, and if I know
anything
about movies at all.Come on now.
8" x 10"s of this print, entitled "Sweetheart, I'd never show all my buddies!" are available in the lobby for a nominal fee.
Kate and Alex(Zoe Richards, Nicholas Shaw) are a pair of twenty-something lovers who share a modest flat and a rather mundane relationship in The Great Wen(they
all
look that way from over here, these days...), until, that is, Alex's comfort zone of telly-after-dark and takeaway is suddenly invaded by a late-night visit from his best mate from college, David(Giles Alderson), who's distraught over being cuckolded by his girlfriend, Anna(Francesca Fowler), and in need of some quality bro time thereafter.The pair graciously sacrifice the living room couch to the heartbroken third wheel in an attempt to raise his spirits but things start to go badly faster than a lead-pawed cheetah in a rocket car straightaway.David's erratic behaviour leads Kate to thumb through a blank book Anna had given to him with future hopes of becoming a children's tome, where she notices odd sketches of otherworldly unshapely rascals who we'll hitherto refer to as 'the unsexy', that've been causing him torment of late, and increasingly neurotic psycho-babble scratched upon the pages.He confesses that 'the unsexy' have been materializing in the shadows, plaguing him, and stalking his every move whenever the sun inevitably sets.It's soon apparent that no hiding place is secure from these hulking, writhing mockeries of humanity when he notices that they've tracked his disturbed ass to his mate's flat, squishily tussling about and banging on the door like macabre encyclopaedia salesmen from Hell, overstocked with boxes upon boxes of the 'Unpleasantries' volume.Like a fourteen year old Calvin Klein underwear model Nancy that just stumbled into bible camp, these folks are in for it, alright.
"Jog on, bell end, I'm well-stocked on hydrocephallic heads as it is!"
Kate and Alex, inexplicably listless in picking up and gettin' outski like any sensible couple would have done ten minutes in, soon find David sleepwalking in their bedroom nurturing some dubitability on Kate's part on allowing her boyfriend's maladjusted mate spend another night in their place, with the catatoniac obviously depriving himself of sleep and becoming increasingly aggro with them.Is the titular possession of a hellish nature or simply the onset of mental illness?Whatever they believe the case to be, it doesn't seem to necessitate the procuring of outside help, even after David tells them that Anna has fallen prey to 'the unsexy' herself, and a frantic cell phone call reaches her lifeless voice mail.Suddenly, pressing their luck outside with the misshappen abomo's doesn't seem nearly as dangerous.The events that transpire in the final reel are gonna remain classified for now, as I'd rather see all of you experience them for yourselves, preferably with the lights all out during a spirited electrical storm one coming evening, with the windows open, curled up on a couch alone, though you can always share the terror with a significant other, too.I promise I won't tell anybody what a sissy coward you really are.Well, not frequently, anyway.Sorry, my own personal demonic imps made me type that last bit, and unlike O'Reilly's, I have to battle to keep mine
in
...
David(Giles Alderson) continually brings bad things to light.
Prior to Possession, Cull worked as writer on the cult BBC tv hit Urban Gothic, the only one of the two directors with another imdb credit.I hope that changes for them soon, I'd definitely watch anything else they came up with.Alderson is tits in purveying on screen-pazzo, and unsurprisingly has no less than nine upcoming film projects in various stages of production.Watch for him.The loverly Zoe Richards, who has two upcoming credits, also turns in a good performance.Makeups were handled by Paul McGuinness, of Nanny MacPhee Returns and Johnny English Reborn fame, who also portrayed one of the monsters. Nothing entirely exceptional, but not without merit, either.Possession materializes from another plane of possibility, slithering to the edge of where the patio light reaches into the blackness, and earns a decent two wop score on the rating scale.Give it a shot, kids!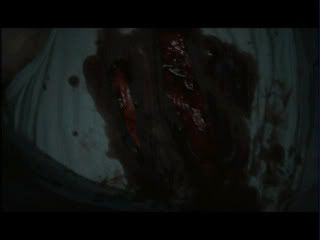 The O'Reilly Factor claims another victim.Full story, tonight at eleven, only on MSNBC.