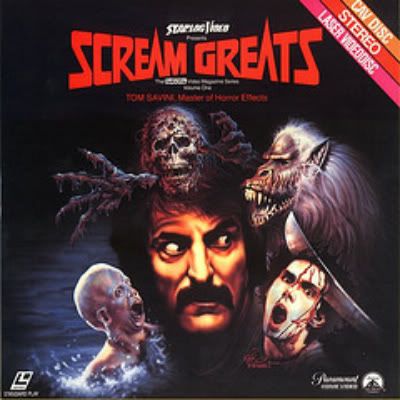 If you happened to be watching a movie during the late seventies/early eighties where one of the characters dies violently on camera, chances are, this guy had a hand in making it happen.Despite the occasional chaffing I administer to Pittsburgh's groundbreaking gore effects wizard, Tom Savini, he'll
always
be one of my adolescent heroes of elephantine proportions.One need only throw classics like Dawn of the Dead(1978), Friday the 13th(1979), or Martin(1976) into the dvd player to see why an aficionado of genre cinema such as I would hold the former Vietnam combat photographer in such high regard.To a gruesome little kid like I
used to be
(insert the heartiest of snickers here), Savini's attachment to a film project is all it would take to guarantee my seeing it multiple times.Other kids watched Herbie go Bananas or Boba Fett's misfiring rocket pack as it sent him plummetting into the waiting yap of the Sarlacc.Me, I was queued up for
Maniac!(1980
), and I wouldn't have wanted it any other way."GOTTA see this one, Dad, SAVINI did the effects!", and my father'd shake his head the way fathers often do, drop a few of his trademark wisecracks, and take me to the movies, god bless him.
So when Paramount released tonight's entry on VHS, a documentary about Terrible Tommy that features discourse from director George A. Romero, "Uncle" Bob Martin, the original editor of Fangoria magazine(which effectively replaced Famous Monsters of Filmland as my most important read), and a gaggle of other cult personalities that includes a pre-KNB Greg Nicotero, it automatically became my next purchase, hands down.The fact that we're
still
waiting for an official dvd release, Blu-ray or otherwise, is a glaring umbrage on the final scorecard of humanity.Let's travel back to the days of yesteryear then, shall we, to when the face of modern horror sported an unapologetically boisterous porn-stache...
I rock the party that rocks the body, Tom rocks the party that rocks the (half)body.
Over a montage of cinematic wounds he's created, Tom Savini likens himself to an assassin, who packs up his bag of tools, travels to another city, and kills people for a living.I'll buy that analogy.We watch Savini drop from the upper level of the Monroeville Mall for a dramatic DOTD stunt/death scene that receives applause from the crew.George A. says Tom doesn't flinch in always going for it.Actor Taso Stavrakis sums him up as simply, fun.Greg Nicotero relates Tom's love for spraying fellow crew members with a soaker full of stage blood to the camera.Nancy Savini, Tom's wife, divulges that her husband loves to scare people."Uncle" Bob Martin says that he's more than a makeup man, he's a personality.Clips from
The Burning
, Creepshow, Friday the 13th: The Final Chapter, and
Dawn of the Dead
are shown as Romero explains that you wouldn't understand why people laugh at such graphic violence unless you're into it, yourself.Savini cites Hitchcock and DePalma as influences upon his work, while we see the similarity between the unmasking of Jason Voorhees and the unmasking of Lon Chaney, Sr.'s Phantom of the Opera.We learn that Chaney, Sr. was Savini's first inspiration for a career in makeup as he walks past the Plaza Theater(with his own Day of the Dead on the marquee) and, as a twelve year old formerly lazy Italian kid, saw Man of a Thousand Faces in the very same theater, later being the only white kid shining shoes(
Billy Batts
:"Now go home and get your fucking shine box!") in Bloomfield in order to buy makeup supplies.He mentions that his son's name is Lon, in tribute to the silent film star.His brilliant work on Romero's Martin is discussed(and wrongfully named as his introduction into special effects in film:Ormsby's
Deranged
and Clark's
Deathdream
pre-date George's vampire opus), including the razor blade cuts and stake-through-the-heart finale.Next, he discusses weapons over sequences from
The Prowler
, including the machete throat-slitting, and head impalement.He admits that "...It's a sick business."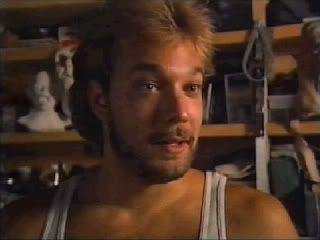 Greg Nicotero, fearful of tarantulas, but not the Flowbee, apparently.Oh, the eighties...
Ned Eisenberg relates his collaboration with the effects master on 1981's The Burning.Savini tells that teenaged actors were spun on the idea of being served up as gory death scenes in
Friday the 13th: The Final Chapter
which segues into stories of his work on the 1979 original, his designs for Jason, and the Final Chapter updated makeup.The bloody and violent stage shows of 1800's influential Grand Guignol are discussed.The parallels between splatter movies and real life horror are also touched upon.Tom and company administer bloody squib shots to Nancy, much to the glee of the neighborhood kids, who are all watching.Tom and Greg discuss their gut-chomping work on Day of the Dead(including the headless brain zombie, the disembodied Greg-head zombie, and the shovel-split head effects), and Savini shows off some latex intestines.Savini remarks that his nightmares involve having glue in his armpits and on the backs of his knees(!).Poor Joe Pilato's time around rotting animal entrails for his graphic death scene is also spoken upon.Bob Martin tells of Savini's strong rapport with horror movie fans, who hold him in higher regards than any of the other makeup men of the day(Dick Smith, Rick Baker, Rob Bottin, etc.), symbolizing "a fan who made it", as Tom gives the ten cent tour of the mountains of glorious horror/sci-fi stuff all over his house.E.G. Marshall's cockroachy death in Creepshow is recalled.Nicotero talks about his fear of tarantulas, and how Tom bought him one, just because!Savini discusses his time in Vietnam, and how photographing the horrors that he saw actually helped him put a face on death when it came to his work later on.Infant daughter Mia does a stunt for the cameras.Tom's own body of stunt work is touched upon, while he hangs from gravity boots.He fences with Stavrakis, and his acting, specifically in Romero's Knightriders is discussed.He displays a puppet he created for Tales From the Darkside, prophetically claiming, "one day computers will do all this stuff!"(how right you were, TS)and that should all of his creations and people he's killed in movies one day seek revenge, he'll be ready for them...
Congrats, Uncle Bob, your very first Wopsploitation© screencap.
Rather than drone on as per usual about what Savini's done after being the focus of tonight's entry, I'll instead direct you to his official website
here
, where you can score all the very latest in photos, journals, videos, complete filmography, and even Android apps dealing with the Italian horror icon from the greatest state in the country(Oh
yes
, it is).Tonight's review is indeed hard to come by these days, but well worth the hunt, even if you only snag a fuzzy vhs boot until we're finally served up the long overdue special edition dvd someday.It's a time capsule of everything that was choice about horror movies in the eighties(and the premier mag that covered 'em) that guarantees to satisfy.On the scale it scores a perfect four wops, and comes with my highest recommendation.Find it!
Ground control to Major Tom: Take your blood capsules and put your grav boots on.