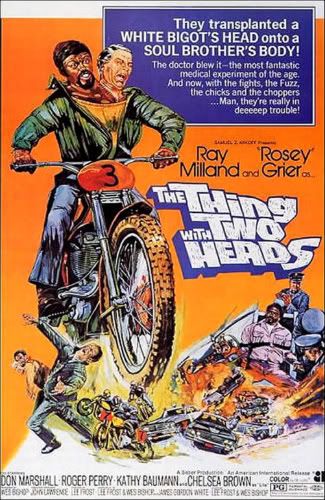 Contrary to all that jive-ass motherfuckin' bool-shit you mighta heard for yourselves in history books, the road to healthy race relations in America was paved by the late exploitation king, Lee Frost when he finally answered society's eternal question, as evidenced by the dyn-o-mite one sheet above:
Couldn't we just sew the dome of an elderly honkey racist onto a young soul brother's shoulders and be done with it already?
Admit it, you've
always
wanted to see something like this, I know I have.Funny enough, as much as dual-domed cats wreaking havok upon the unsuspecting populace appealed to me, this was not my favorite double header growing up, thank Bruce Dern and AIP's The Incredible Two-Headed Transplant(1971) for that.I blame the lack of homicide in tonight's entry(
and
the lack of tension, the lack of scares, the lack of...you can dig where I'm takin' this, baby.).Decades later, my sentiments towards the delightfully absurd drive-in cult classic have indeed softened, though I honestly feel Frost and co. merely scratched the surface concerning the concept, and should have taken it as far as they could.They might have had an
all-time
classic on their hands, for serious.As it stands, it's a pretty good time.The goril-licious special makeup effects were provided by none other than the apetastic Rick Baker, who also appears on camera in his two headed silverback suit.The cast is headed(ouch, sorry)by B-vet Ray Milland, who turns in a worthy performance as Rosey Grier's pesky caucasian shoulder growth.The aforementioned Giants/Rams defensive tackle doesn't show as much of a knack for acting as he once did for writing needlepoint books for men in the mid-70's, but he does manage to keep a straight face throughout all of this, and that had to have been near to goddamned impossible.
"Mbutu, you said the 'nanners was free, why are dese here peepul lookin' at us dat way?!!"
Enter one cancer-riddled, wheelchair-bound brain surgeon named Max Kirshner(Ray Milland) who's also being eaten alive from the inside out by an even
more
degenerative cancer, sometimes referred to as 'intolerance'.Entirely unsolicitous over his own looming mortality, Kirshner has been conducting some idiosyncratic experiments in his basement lab(the 'basement laboratory' is almost never a good sign for humanity in these movies)involving some innovative transplant theories concerning the dome.Thus far, he's successfully grafted an uncommitted goriller skullpiece onto the host body of another simian(are live gorillas that plentiful on the American black market?How the hell is a dying paraplegic getting a sizeable metal monkey cage past the neighbors anyway?It just doesn't matter, as Bill Murray used to say after a thorough nose-powdering) and the dual-domed chest pounder hasn't even broken loo...yeah, nevermind.The fruits of the stockboy's thirty-five cents an hour labor at the local grocery store are soon dashed from the shelves by the brute force of the doubled up jungle demon on a quest for...bananas, of course.One tranq dart later, Kirshner amputates the original host head from his test subject, which incredibly survives, leading him to up the ante on the head-switchin' sweepstakes to human stakes.Dr. Desmond(Roger Perry) is called in to remove the mortally ill surgeon's lid before his cancer spreads any further, and graft it onto a healthy body.Death row inmate Jack Moss(Rosey Grier) volunteers himself for the procedure, thinking that donating his body might just buy him the necessary time to prove his innocence against the criminal charges hanging over his head.Damn, Rosey.That's a tight spot.
"Ya got the wrong William Smith, I'm tellin' ya!"
After a successful operation, Kirshner groggily awakens to find he's currently affixed to the shoulder of a hulking negro, to which he ponders aloud:"Is this some kind of joke?"Once he's certain that it
isn't
, even, he accepts his multiracial dilemma for the moment, realizing that his head can again be removed and placed on a honky body at a later date, if only the revived Moss, who flips his wig at the idea and promptly escapes, was as receptive.Moss enlists another brother, Dr. Williams(Don Marshall), who Kirshner had previously turned down for a position on his staff due to his skin color(oops!), to help him flee from the cops.Cue: police cruisers v. two-headed-negro-on-dirtbike chase sequence that seemingly goes on for, like, ever or something.Once the unlikely duo(trio?) arrive at Moss' girlfriend Lila's(Chelsea Brown) place to hide out, Kirshner's wisecracking head singleheadedly sets the civil rights movement back fifty years with Bunkeristic barbs like "Is that all
you
people think about?" when Jack and Lila contemplate getting bedroom funky despite the presence of Kirshner's grill mere inches away, and "What are we having for dessert, watermelon?" in protest of the soul food Lila has cooked the household.As you might imagine, soon, all black parties involved are plugging for the A.S.A.P. evacuation of Jack's mouthy euro-dome from his shoulder.How this cautionarily dark racial horror-comedy finally plays out in the end, I'll leave for you to discover for yourselves...
Not juss' one, but two mufuggin' heads y'all...
Chances are, if it was labelled 'exploitation' in the sixties and seventies, there's a good chance Lee Frost was in the director's chair for it.Whether it was nudies like 1962's House on Bare Mountain, mondo documentaries like Mondo Freudo and Mondo Bizarro(both 1966), nazisploitation like Love Camp 7(1969), or blaxploitation gold like tonight's review and The Black Gestapo(1975), this cat filled many a sleazy grindhouse with grimy goodies in his day, methinks.Grier enjoyed a lengthy career in television, appearing on everything from I Dream of Jeannie and Love Boat to Kojak and CHiPs.Milland would later venture into genre territory with roles in Terror in the Wax Museum(1973), 1975 telepic The Dead Don't Die, The Attic(1980), and even Look What's Happened to Rosemary's Baby(1976).It turns out that Rick Baker, who would follow up his work here with John Landis' Shlock(1973), would contribute more than once to the blaxploitation sub-genre, supplying make up for Black Caesar(1973), The Autobiography of Miss Jane Pittman(1974), Coming to America(1988), and also Eddie Murphy's Nutty Professor movies.We'll give you a pass for Norbit(2007), maestro.It's only fitting that this titular Thing with Two Heads earns itself two solid wops on the rating scale.Give it a look and you just might have yourself a grand ole time with it, if you're not careful.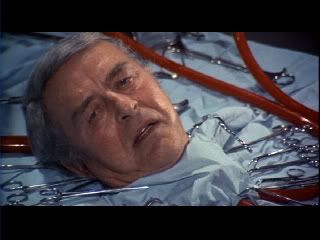 You just lie there on life support tubing until yer tolerant, Milland!