Until very recently, it was perplexing the
fuck
outta me that German cult director and art-splatter maestro Jörg Buttgereit has only made
four
genre films since the year I graduated high school.For those of you unfamiliar with that particular time period: Budd Dwyer sucked on a gun barrel on live television, Klaus Barbie was sentenced to life in Lyon, France, and Rita Hayworth, Andy Warhol, and Lee Marvin got up from the table of life and cashed their collective chips in. Back then I used to say I'd never make it to
thirty
, now I can proudly boast of having some band tees older than some of you youngbloods out there... Anyway, I was instantly in Buttgereit's corner after screening his notorious classic,
Nekromantik
, for the first time(despite the unwatchable bootleg),and my admiration only grew leaps and bounds with each successive project he'd done.Then, just like that...nothing, for a
long
time.Thankfully, my two favorite Nordish libertines over at
Soiled Sinema
covered that base with an excellent,
in-depth interview with Buttgereit
a while back that you really oughta read when you get the chance.Make room for me on the Nekromantik 3 bandwagon, fellas(and a little extra for the two petite brunettes that'll be flanking me at all times...).
Tonight's entry, stands as his last genre film to date, which is a pity, because it rules over lesser serial killer-based efforts of the day(Natural Born Killers,Kalifornia, for example)like a
Green Machine
among
Big Wheels
.Buttgereit packs a wealth of sociopathic mayhem into a running time that's just over an hour, and the conservation proves highly effective, while lead actor Florian Koerner Von Gustorf as the titular Schramm resembles a tattooless, less perverted(!), friendlier(!!) version of my buddy Rich(some of you less fortunates may have caught a glimpse of the Texas beltbuckle over the years).There's a deliberately hokey effect or two on board, but really, what's not to like about a movie who's tagline is a quote from
Carl Panzram
?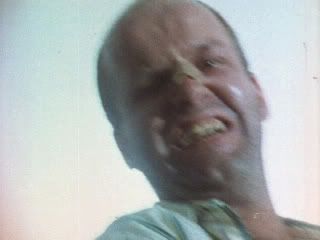 Florian Koerner Von Gustorf as Lothar Schramm as Texas Rich.
Over some persistent knocking from the prostitute(Monika M) next door, we meet Lothar Schramm(Florian Koerner Von Gustorf), semi-conscious and bleeding all over his floor after tumbling from a ladder while painting over some blood splatter on his walls.Earlier, he was visited by two door-to-door Good Book advocates who invite themselves into his flat for a coffee and a cognac, and to share in their religious awakening.Too bad their martyred saviour didn't forewarn them about "The Lipstick Killer".Schramm ventilates the male zealot's throat with a steak knife, dousing everything in a hearty arterial spray, before thumping his female counterpart's dome with a hammer in brutal slo-mo.He strips the corpses naked and suggestively poses them around the apartment, snapping Polaroids.It is their blood he's trying to conceal when he takes his tell-tale ladder flopper.Lothar is haunted by recurring neurotic hallucinations of marathon runners, running through a forest, and waking up to discover his right leg has somehow bloodily detached itself during the night.
Hate
when that happens.Two elderly businessman-type Johns arrange for a clandestine gash-for-cash trade off at their distant mansion with Schramm's next door hooker.Uneasy about working outside of her apartment, she approaches Lothar about driving her there and waiting outside to ensure her safety.When he agrees, she rewards him with an innocent peck on the cheek.Able to hear her conducting business through the walls, he takes care of his own needs by putting the blocks to a small inflatable rubber fuck toy, which he thoughtfully rinses out directly afterwards.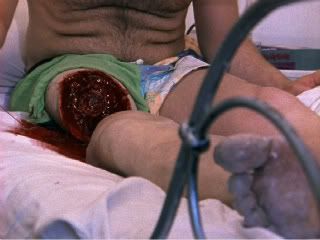 With his relationship with the Foot People irreparably damaged, Lothar took to making acquaintance with the Hand People, instead.
He imagines himself ballroom dancing with the girl while enveloped in smoke.He drives her to her big money trick, and while waiting in his cab, he envisions himself in a dentist's chair where a troublesome molar is yanked out, followed by one of his eyes(!).She returns with a weird tale of priceless nineteenth century furniture, old men in silk dressing gowns, and being watched while she undergoes a sort of positional interview.Well-paid for her efforts, she agrees to return, remarking that she's done far worse things for a fraction of what these gents have paid her.We see Schramm doing sit ups and push ups in his tighty whities, which are mysteriously blood-stained in front.As he fantasizes about rubbing a woman's stocking-upped gams, he stretches his foreskin on the counter top, marks it with a lipstick, and drives several nails into it(!!).That'd probably explain the bloody drawers.The whore takes Lothar out to dinner and when she holds out the cash to pay, he envisions how she got it, from a balding john.They walk home through a darkened street, past a troubled young man who shoots himself in the head.She comes in for a nightcap, but Lothar slips a mickey into her cognac, and she's soon unconscious and being stripped.Schramm wakes up the next morning to a tentacled cunt with teeth(!!!) under his bedsheets, while the roofied whore awakens unharmed under a blanket on his couch.We then see Lothar's fatal ladder accident, spurred on by his leg-based neuroses, followed by the girl impatiently knocking at his door.When Schramm doesn't answer, she decides to go to the mansion without him.The cab driver imagines himself standing before an Aryan-looking Jesus, complete with crown of thorns, who angrily strikes him.Finally, we see the whore, hopelessly bound to a chair, and gagged, with a look of terror in her eyes...
You guys playing Dorothy Stratten v. Paul Snider again?
We'll have hit the three hundred thousand hit mark here at the Wop by the time you're reading this, definitely good to see the genre nuts dropping in with regularity over here.As always, you keep reading, and I'll keep writing.Schramm runneth over with ironic plot twists and dark humor; unpleasant and repugnant yet unrepentant in delivering a bird's eye view into the sociopathic mind.It's probably not the strongest of the director's work to date, but it's certainly praise-worthy none-the-less, with at least one of his trademark moving camera shots on board to please the sticklers for technical brilliance out there.If you're into Buttgereit or serial killers you'll probably dig the shit out of this one as much as I do.I saw the special edition dvd recently going for nearly fifty greenbacks online, but I'm pretty sure you could find it cheaper than that if you do your homework(my copy was snared for frags bucks in one of those massive video clearance outlets on a stellar Indianapolis get-laid-cation I took a while back).On the scale it merits a solid three wops.See it!
Tried this once, but my dick bent the nails.That's not entirely true.I threw my back out trying to reach all the way out to the crown...