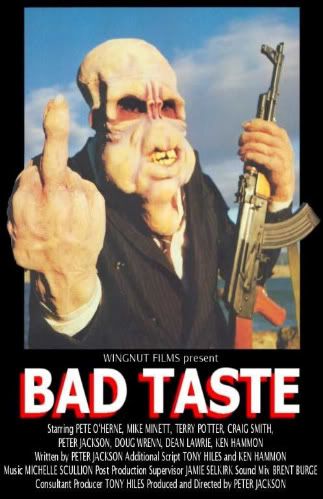 For some, director Peter Jackson signifies recent big budgeted blockbusters like King Kong and the live-action Tolkien series, but for me and the merry hometown band of genre buffs I grew up with, it all started the fateful night we snared the VHS of tonight's entry from the new release shelves.Fact is, even if the portly New Zealander had never gone on to win multiple Oscars or direct the huge movies that he did, he would
still
always have a place on my top list for his breakthrough genre films, starting with his pioneer effort here: a sublimely absurd shoestring-budgeted horror/sci-fi comedy romp seasoned with lunkheaded gags and accentuated by countless ambitious and bizarre gore set pieces reminiscent of the Python boys at the top of their game.That the director responsible for scenes depicting gobbling spoonable grey matter from the open skull cap and the chugging of a punch bowl full of chunky, lime green, intergalactic earl would later bag Academy Awards in the first place kinda boggles my mind to a minor degree, now that I'm thinking about it.Even more disruptive to my think-putty is the fact that Jackson produced, edited, created special effects, handled alien makeups and gore,
and
played multiple roles in tonight's review, as well as his directorial credit.From his very beginnings, he established his competence in all aspects of filmmaking; from fleshing out all of the hilarious events that transpire in front of his camera
sans script
(!), to producing a well shlocky genre cult classic, coherent as all fuck despite the beggar's cup budget he had to work with.Ain't no two ways about it, droogies, Peter Jackson's
always
been a cinematic force to be reckoned with.
Daring Derek(Peter Jackson) of A.I.D.S., wardrobe by Tom Baker Clothiers, Ltd.
When the populace of sleepy, coastal Koihoro("Eat hungrily" in Maori, nice one Petey!) inexplicably goes missing, the scene of the crime is quickly set upon by A.I.D.S., and by A.I.D.S. I mean the Astro-Invasion and Defense Service(and perhaps, a little tasteless eighties humor, as well), aka/"The Boys":Barry(Pete O'Herne), Frank(Mike Minett), Ozzy(Terry Potter), and Derek(Peter Jackson), a motley group of wisecracking, violent prone chappies chosen to protect Earth(and the Moon)from potential threats from space, which, in this case, entails the curmudgeonly Lord Crumb(Doug Wren) and his hydrocephalic henchmen who've been patrolling the galaxy for the next big interstellar fast food craze.The boys come equipped with a muscle car full of weaponry that'd make Charlton Heston ruin his action slacks with throat yogurt stains, and when Derek captures one of the bastards, a mentally impaired rascal named Robert(also Jackson, rocking a signature beard), he plans to torture some answers out of him on a sheer cliff, unaware that his pounding of a bayonnet through the bottom of the alien's track sneaker has caused its cries of pain to alert a gaggle of his pals to come to the rescue.Barry tries to warn him of the impending danger via walkie talkie, but he's a Derek, and Derek's don't run.He manages to mow down the majority of homicidal e.t.'s with an Uzi, but Robert has freed himself during the melee, and after a struggle on the steep cliff-edge, he boots Derek in the yarbles, sending him plummeting to the rocky beach below.He groggily awakens to realize the fall has split his skull open(!) and tossed a slimy bit of his brains onto the ground(!!).After a pratfall or two, he shrugs off the would-be fatal injury, shoves his brain(and a bit of gravel) back into the gaping headwound and ties it off with his belt(!!!), driving off to meet his partners, who've located the alien base of operations in the nearby Gear homestead, in a ridiculous Beatlesmobile.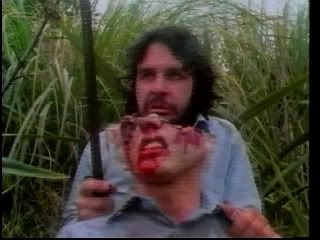 Robert(also Peter Jackson), the cranially-challenged coadjutor from the macrocosm, digs brains with a spoon, catsup optional.
Meanwhile, the aliens have abducted a mild-mannered charity collector(Craig Smith), who's slated to be the main course that night for a celebratory dinner marking a successful culinary discovery: homo sapiens, a taste sensation when coupled with 'Reg's eleven secret herbs and spices'.Not in possession of glowering digits, these bastards have just wiped out a small town, packing and stacking its former denizens in bloody cardboard boxes, and most likely have their sights set on bigger things...Christchurch...Wellington....maybe even
Auckland
.Yeah well, that wouldn't be so bad. A pleased Lord Crumb calls for a toast, which entails flipping Robert upside down and filling a punch bowl with steaming chunky vomit, which Barry, disguised as one of the ranks, is forced to imbibe with the others.He likes it.In rescuing the collector, apple taped into his yap, soaking in a fifty-five gallon drum full of ingredients, the boys unleash a paramilitary ammo-powered bloodbath upon the interplanetary interlopers, with the hail of bullets causing the aliens to cast off their human disguises, revealing their true alien form(judging by the pot bellies and duck asses, they don't think too highly about exercise).With all of his subordinates pushing up daisies and Ozzie about to fire an rpg into their home, Lord Crumb raises anchor on the residence, which turns out to be their mothership, also disguised.The ship spins out of the atmosphere as the launched rocket-propelled grenade hits a sheep with
baaaad
luck(sorry) in a nearby field, instead.What Crumb hadn't bargained on, was a psychopathic chainsaw-wielding Derek stowing away on board."Suck my spinning steel, shithead!" he shouts, as he launches, saw blade first, into Crumb's domepiece, splitting him wide open and burrowing through the poor bastard's body before exiting through the alien leader's prolapsed asspipe(!!!), exclaiming that he's born again(nyuk, nyuk), before donning the empty skin and letting the ship's autopilot take him directly to their home planet.Boy, are those guys in for a rude, four-eyed awakening.
"John, I think you've just backed over Stuart Sutcliffe..."
Packed with loads of low budget thrills and frenetic energy you'd be hard-pressed to find in one of Jackson's recent works, Taste is an enjoyable and funny introduction to one of the most talented directors in the film trade today, fought over by three distribution outfits at Cannes, and bagging itself the Gore Award(Ho, ho, ho, Le Gore! Sacré bleu!) at 17th Paris Festival of Fantasy and Science Fiction.Music Video Distributors released an unofficial bare bones disc of the film(the one I've got) before Anchor Bay set the record straight with a two-disc special edition(the one I haven't, obviously).The original Magnum vhs boasted of cover art that featured an alien flipping us all the bird, but was soon switched to the familiarly British two fingers "up yours", which isn't at all any less rude when you think about it.On the scale, Taste scores an impressive three wops, a
true
cult classic you've gotta see at least once...
Take note, this is quite possibly the finest cranio-rectal Roto-rooter-by-buzzsaw ever captured on film.