Under the woproscope tonight is a wildly popular slash 'em up entry with a cast peppered with actors who actually went on to successful careers afterwards,an excellent score by 80's horror soundtrack staple Yes' Rick Wakeman,and some choice grue work by Tom Savini at the top of his game and height of his popularity.One of the first horror movies heavily censored in Dear Old Blighty during the Video Nasties era,the dvd has brought the film back from the brink,in all its fully uncut glory.Based on an old campfire tale about "The Cropsy Maniac" that circulated in the New York/New Jersey areas and often lumped in with Friday the 13th clones of the day,the screenplay for the film(scribed by Harvey Weinstein!) was actually written before Cunningham's groundbreaking slasher opus.Savini,who turned down the FX job on "Friday the 13th Part Two" to work here,crafted the hideous grillpiece of Cropsy in a mere three days,grooving to classical pieces while making casts of the actors.This was another film of the time period that Fangoria's extensive coverage helped intensify the desire of kids all over to fill theaters and bear witness to.The Thorn-EMI VHS release was a real fucking bummer,cut to ribbons like a coupon circular to a scissor-happy granny.Looking at it through older,more experienced eyes,it's an average movie that sticks pretty close to the slasher formula,only made special by Savini's splatter,like so many were in the eighties.At this point in time,his name alone would be enough to get me to the theater or drive in,eager to see what sanguinary sleight-of-hand terrible Tommy had in store for horror fans each time out;his effects work was often a bigger draw than any actors a movie might have showcased,at least for me.The fact that he was an Italian-American from Pennsylvania never entered into it...
(Looking at ceiling and whistling)
Slasher staple:Moistened on-camera milksacs,check.
At Camp Blackfoot,a young group of dicks set up a practical joke on a miserable boozehound caretaker nicknamed Cropsy,for the hefty hedgeclippers he's always hauling,involving a rotten skull with candle-lit eyesockets placed precariously on his cot(which is curiously close to his
gas tank
) while he sleeps in the middle of the night.You smartasses couldn'ta antiqued him with baby powder or drawn some dicks on his forehead with a Sharpie?Anyway,Cropsy wakes up sudden-ish,knocking the lit bone-gag into his aforementioned gas tank,and five years and hundreds of failed skin grafts later,he's released from the hospital as a human
pot sticker
.You know,he's
probably
gonna hold a vengeful grudge over that one.The horrified whore he kills upon release oughta know that as well as anybody.In the five years that have passed,the camp seems to have slipped into some weird vortex of opposites where some of the kids look older than the counselors.Let's see,we've got Eddie(Ned Eisenberg)that modest-but-cute object of desire,Karen isn't all that into.Maybe it's because he's fucking thirty-eight.Alfred(Brian Backer,aka Rat from "Fast Times at Ridgemont High") the massively creepy,voyeuristic dork,Woodstock(Fisher Stevens),the jack-off champ,Fish,and Dave(Jason "Seinfeld" Alexander,less forty pounds and with slightly more hair),three lesser dorks,and Glazer(Larry Joshua),the meatheaded neanderthal douchebag,and a myriad of girls of various ages and varying degrees of hotness.Todd(Brian Matthews)and his girlfriend Michelle(Leah Ayres)are the only counselors over an ocean of loud,bratty kids whose parents probably sent to camp in hopes they'd be diced up by a horribly disfigured maniac on a bloody,revenge-driven bender.Some of them are about to get their wish.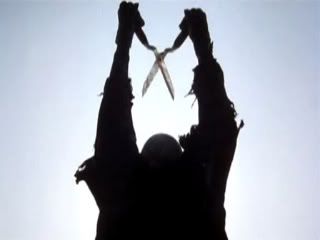 SHEAR terror:The grotesque gardener,bored with cutting the camp hedges,moves on to campers' headses.
After some heated skinny-dipping,Karen blueballs Eddie,and when he tries to lay some surprise sex on her anywho,he eats a free slapwich and tells her to hit the bricks.While she's searching for her missing clothes,Cropsy shows her throat who his favorite member of Guns and Roses is(Hint:It
ain't
Axl).When all their canoes turn up missing the next morning,Michelle has some of the kids build a Huck Finn-esque log raft,to search for the missing canoes on.After some old school paddling,the five rafters spot a lone canoe drifting up ahead,but when they come upon it,Cropsy springs up and forces them all to eat brutally graphic hedgeclipper-based death for lunch.That night,Glazer fucks Sally in a sleeping bag,but a premature yogurt blast finds him out in the cold forest looking for more firewood while Cropsy polishes off his unsatisfied conquest with the shears.He then pins the meathead by the neck to a tree.Alfred who's been peep Tomming the whole time,gets dragged off by the neck to an abandoned mineshaft,with Todd in hot axe-wielding pursuit.Alfred gets pinned by the arm with Cropsy's shears to a wall while Todd and the scarred monster he finally recognizes as the caretaker he accidentally disfigured years earlier,fight it out.Alfred frees himself,slamming Cropsy's own implements of death into his back.The two are about to leave the mineshaft when Cropsy pops back up in true "A-HAH!I'm not quite dead yet" fashion,only to get set back on fire and get the axe buried in his dome for good measure.He's dead now,alright.The horrible prankster and the peeping Tom have saved the day.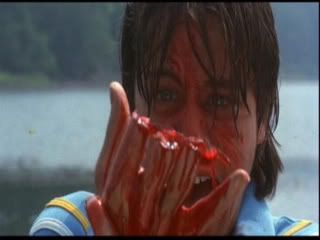 Three of R. Palm's sisters write a hasty "Dear John" letter to Woodstock(Fisher Stevens).
Most of the censorship fuss stemmed from the classic raft murder melee,which probably stands as the best scene in the whole movie,and a pair of scissors entering female flesh during the hooker-snuffing segment early on.America didn't see an uncut version on dvd until MGM's 2007 release,which,ironically,is labelled "rated R" on the dustcover,despite being the fully uncut version.Those of us who went the extra mile at the beginning of the decade,buying all-region players,enjoyed the uncensored print many years beforehand.Insert Nelson Muntz "HAH-hah!" here.Lou "Cropsy" David was last seen in 1985's afro-fu extravaganza,The Last Dragon.Fisher Stevens has been in everything from television like Law and Order to big screen roles in Short Circuit and Super Mario Brothers.The barely recognizable Holly Hunter in her debut,went on to win a Best Actress Oscar for The Piano in 1993,and be nominated for three others,although my favorite Hunter vehicle will probably ALWAYS be "O Brother Where Art Thou?".Jason Alexander,a self-avowed Trekkie from Newark,New Jersey,is still highly visible all over the small screen,since Seinfeld ended its long run.Though not perfect,it's arguably one of the better slasher pics of the era,and well worth a viewing and/or a place in any self-respecting gore hound's video collection.On the scale,it merits: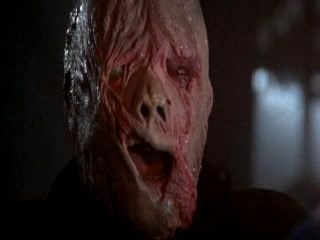 Cropsy(Lou David):Homicidal Chinese dumpling-headed horror icon with hedge shears.