Happily all sorts of messed up tonight,droogs,cruising on a sottofasciasemplice playlist on my WMP,and enjoying smokes in the rocker in the cool night air.Self-medication is a necessary evil in these times of great collective apathy amongst otherwise stand up motherfuckers.I'm new to such a concept,always priding myself as a stand up and be counted kind of rascal over here,but I must say,I'm growing more and more used to the "Who gives a fuck?" mantra so prevalent in today's society.Luckily for you bastards,one of the things I still give a good,earth-shattering fuck about is serving you up regularly with the best and worst of the cult,horror,and exploitation genres of film.I may come off as a hardcore snob at times,or a caveman at others,and maybe I am both of those things,come to think of it,but I'd never steer you in the direction of a rancid ass-pie movie unless I forewarned you.If you were interested in seeing pics of Freddy Krueger's new fedora before anybody else,or hearing somebody blow smoke up the asses of the big studios over their recycled,unoriginal pap that they constantly camoflage as beluga caviar then expect you to clean your plate with a smile on your face,you're probably on the wrong blog.I love
real
horror fans far too much to ever sell out.
Thankfully we're raising the bar on the rubber sea monster sweepstakes here at Castle Wop tonight,if only slightly.Progress is progress.I should probably explain that the titular Slithis suit is pretty damned choice for the time period,and my beef with this whole production is how little screen-time it clocks,when it should have been a lot more visible a lot earlier in the film.It's the rad monster suit,the original premise,and the insane performance of seventies genre film staple,Hy Pike,of "Dolemite","Lemora:The Lady Dracula",and of course
,"Hack O Lantern
",that saves the movie from the brink of total banality here.Otherwise,the action drags like the back half of the run-over squirrel in Ivan Marx's "Legend of Bigfoot",and it may take you two or three sittings to get through the whole thing without passing the fuck out like Grandpa at 5:30pm bedtime with a belly full of phenobarbital.And awaaaaay we go...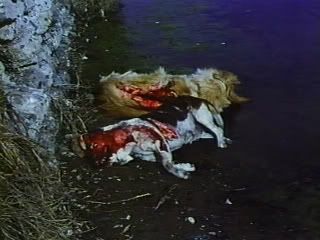 Dead...puppies...aren't...much...fun.
While two boys play frisbee along a canal in Venice,California,one of the lads discovers a pair of mangled dogs while chasing after a frisbee overthrow,which is a growing problem locally according to the radio news broadcasts(the dead dogs
and
the bad frisbeeing).That night another family mutt goes to that big fire hydrant in the sky,and when his family goes to check on him,they end up on the ethereal escalator themselves.The local police suffer from H.U.A.(heads up our asses) syndrome,banking on a murderous cult being responsible for the awful offings,thus leaving responsibility for saving mankind upon the shoulders of a high school journalism teacher(Alan Blanchard),of course.All the news reporters must've been picketing for shorter hours or something.Somehow the educator manages to tamper with a crime scene and visit the homes of the most recent victims,scoring himself a choice piece of evidence for examination.Mud,slime-covered,and tracked all over the house,which after analysis by the teacher's biologist buddy,Dr.John(Dennis Lee Falt),turns out to be an unusual mixture of radioactive inorganic and organic matter,the likes the doctor has never seen before,harkening him back to a story about a radiation leak twenty years earlier in Wisconsin causing irradiated lake mud to take on all the living microorganisms and form something completely different,which scientists of the day dubbed "Slithis".He surmises that the substance his friend has brought him,is somehow also Slithis,but unlike the earlier Wisconsin version which was immobile and harmless,this version must have blended with a higher organism,creating some sort of...homicidal monster.Makes sense.
The spaghettios go in the mouth,buddy.
Our two unlikely protagonists seek out one of the original scientists to discover Slithis,and pose the eternal question:Could Slithis join with a higher life form and mutate into a kill-crazy amphibious creature of some considerable-assed size?After the yes they knew they were gonna get,Connor hires a boat captain and a fakin' Jamaican diver(Mello Alexandria) to collect mud samples from the sea bottom around the power plant,to prove their Slithis theory once and for all.Meanwhile,the Slithis monster has upped his diet from domestic animals to human beings,and once Connors finally(really,finally.)has his scientific proof and corroborative stumblebum eyewitness testimony,he goes to the police,where the lieutenant(Pike) after much outrageous eyebrow-lifting,painful grimacing,and vocal inflections,(and cross-examination by a ..."police scientist".Yup.)tells the prof to hit the fucking bricks.What follows is a sequence that might remind some woprophiles of a 1975 Spielberg production,if Jaws actually sucked balls and Hooper was a black dude who affects the worst patois you've ever heard,and nothing much fucking happens for a long,drawn out periods of time.After slightly less time than it would take to sit through 1987's The Cure for Insomnia(which averages 5 out of 10 stars over at the imdb,have that many people actually sat through an 87 hour long movie?),the Slithis finally boards the vessel and dispatches two of the seafarers,leaving the high school teacher and the Jamaican to fend off the muck monster's slow-motion attack(which is
twice
as slow here than say,
Gargoyles(1972)
for some unknown reason).Screwdrivers,ship chains,shotguns,all prove futile as the Slithis tears open the negro to reveal what looks like strawberry marmalade.So
that's
what's inside those guys.After it pulls a dying-rasta-driven axe from itself,the teacher slams an anchor's fluke into its shoulder,which inexplicably scores fatality points,and kills the thing.Connors kicks the dead monster overboard,claiming it belongs in the sea,and as he's about to walk off into the cinematic sunset,our hero is grabbed by...yup,it wasn't dead,afterall.Windbag Californians-0,Slithis-1.
"You're better looking than Farrah,baby." was heard a lot in 1978.
In a hat tip to master showman William Castle,Slithis "survival kits" were handed out as part of the film's publicity campaign,which included vomit bags and 8" x 10"s.Another positive is the surprising amount of carnage and nudity showcased herein,especially for a movie that was released with a PG rating.Code Red recently released the film on dvd,after years of bootlegs floated around,and did a bang up job,indeed,cleaning up the $100,000 dollar monster movie shot in 16mm then blown up to 35mm,also including the memorable trailer.It's definitely worth a viewing or two if you can get past the gaping stretches of boredom within.On the scale,Slithis sees two wops from a vaselined up coke bottle lensed viewpoint,for effect,of course.
Whutchoo tawkin 'bout,Slithis?!!