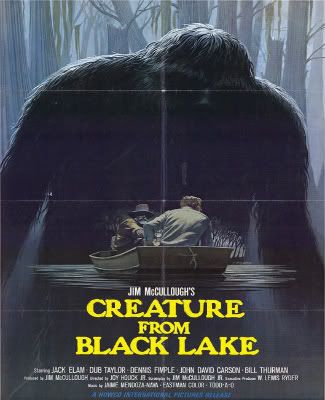 Yeah,yeah,yeah.For a guy who was sued for his house by his father,and who doesn't get to talk to or see his kids ever,I believe I've heard "Happy Father's Day" just about enough for one year.Put the shmaltzy greeting card from Dollar General and ugly tie on the kitchen table,and run out and see how long it takes to bury your brother in the sandbox already.I'm gonna throw your mother over my shoulder,take her upstairs and give her a bullet train ride to Orgasmo,doing things to her that would have
Elagabalus
him(her?)self calling for censorship.And,
no
,you can't have the car.What you can have,is tonight's review,keeping with the recent monsteriffic trend here at the Wop.Be thankful for the little things in life,is what I'm telling you.
We turn tonight once again to the wildman of the woods for our movie review,and where most cinematic venues concerning everyone's favorite cryptid fall miserably flat,this low budget drive in staple of the mid-seventies manages to deliver.Written by Jim McCullough,Jr.,who also plays Dub Taylor's grandson Orville in the film,and directed by the late Joy N. Houck,Jr. and featuring the acting skills of Jack Elam,John David Carson,and Dennis Fimple,who have all joined the choir invisible,unfortunately,tonight's entry serves up some decent atmosphere and creepy swamp locations while not revealing very much of its titular anthropoid,which works in its favour here for the most part.If you've got a fifteen thousand dollar Bigfoot costume,show the damned thing off.If you don't(these guys
didn't
),then hide your shortcomings in the shadows,behind trees,etcetera.People are often more scared by what they
don't
see,as has been said so many times over the years.As it stands,this movie rises near to the top of the vast sea of Squatch-sploitation films so popular in the seventies,and remains a grainy,groovy good time to be had.
"Let's see Pahoo find me here!"boasts the bellicose beast.
Rives(Carson)departs the windy confines of Chicago on ummm,brace yourselves...
a university-funded,academically-sponsored research project on Bigfoot
(yeah.)after hearing of 'Squatch-dealt death down in the swamps of Louisiana from his Anthropology professor(director Hauck).Laugh all you want,I've
been
in Chicago in January,I'd probably opt for hunting murderous man-monsters in a swamp full of
water moccasins
and Italian-starved mosquitos over that wind and lake-effect snow anyday myself.Although such a research project seems a bit far fetched,let's look at the equipment he packs for the trip:One seventies van,some sleeping bags,a tape recorder,and uh,Pahoo(Fimple)."What's a Pahoo?",you ask.Well,Pahoo is Rives' goofy,white 'Nam vet buddy with an Indian name who craves hot young girls and hamburgers and has an aversion to fried chicken.Pahoo looks like he missed out on Down's Syndrome by about half of a chromosome.So,maybe the university didn't shell out much afterall,eh.Thus,the two men embark on their low budgeted journey to the northwest corner of Louisiana,in pursuit of one of the only suspects in documented cases of Bigfoot-on-man crime.When they reach Oil City,they find a backwoods town so rural that the locals even call a guy named Pahoo a "yankee",and resistance in the form of local sheriff Carter(Bill Thurman) whose cautionary suggestions about nose-poking and that fabled place,"where it don't belong",fall upon the deaf ears of anti-authoritarian student/rebel Rives.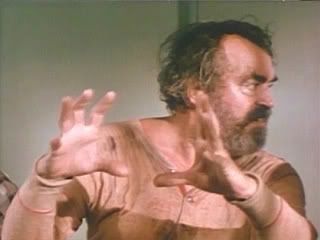 "Go ahead,throw the ball already,I AM looking at ya!"
After fruitless efforts to interview the local townsfolk and much Pahoo-based slapstick at the diner,the men are approached by Orville Bridges(McCullough),a local in a ten gallon hat who was orphaned as a baby as a direct result with an encounter with the creature,who is willing to help the boys out off-the-record.At the Bridges' place,the men are entertained by a Gramps(Taylor)/Orville hoedown on the front porch,but Pahoo,already appetite-less at the thought of
more
fried chicken,dines on his own foot instead when he blurts out creature-related queries and upsets Grandpa's wife,inadvertently opening the old family wounds and buying the amateur cyptozoologists a night in the barn,where they manage to record the actual screams of the creature on their groovy tape recorder.After a poorly timed date with two local young hot-to-trot foxes lands the men in jail(one is the sheriff's daughter,oh sweet irony),they meet lazy-eyed trapper, Joe Canton(Elam),who just happens to be the guy they were looking for in the first place;his partner being the unlucky bastard who got death-dunked in the drink by Bigfoot in the credits.The hulking,belching,farting drunk with eyes by Marty Feldman allows the boys to camp on his land,where Pahoo,tired of his doormat status,finally explodes on Rives around the campfire,reminding him that
he
was getting shot at in 'Nam while Rives was probably dodging the draft in Canada with the rest of the Pinkos.And Pahoo will have an extra serving of beans,thank you,Bitch.At this point the creature crashes their party,flipping their van down an embankment,nearly killing both of them,and putting Pahoo in a convalescent bed at the hospital in the process,where both teary-eyed men vow to return to Black Lake and prove the ornery beast's existence once and for all,once Pahoo comes out of traction,that is.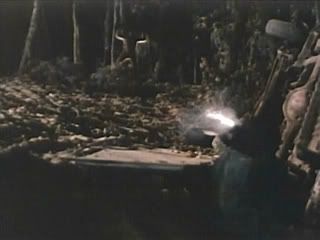 "I warned you fuckers,if I heard you play Sammy Johns' "Chevy Van" one more time..."
The always unforgettable Elam worked in television and film right up until his death in 2003,in everything from "Jinxed!" to "The Soggy Bottom Gang Rides Again".Fimple,who most of the younger readers will remember as Grampa Hugo in Zombie's "House of 1,000 Corpses",worked mainly in television until his death in 2003.His cinematic sidekick,Carson,who scored a genre role in 1977's "Empire of the Ants",also had a long career in television until his untimely death in 2009.Director Houck,who helmed genre pictures like 1969's Night of Bloody Horror and Night of the Strangler in 1972,died in 2003.There's a sad pattern here somewhere.Hell,even Roger Pancake,later of "Dracula's Dog" fame,is no longer with us.Nevertheless,Creature is a highly watchable slice of seventies Bigfootiana,that comes recommended from your humble N.On the scale,it leaves footprints in the swampy bottom more than two wops long...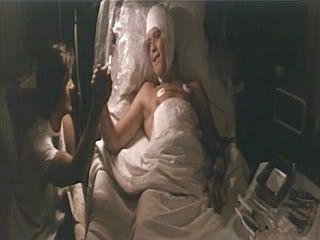 "I know I almost got ya killed,Pahoo.Let's do it all over again once your bones fuse back together!"