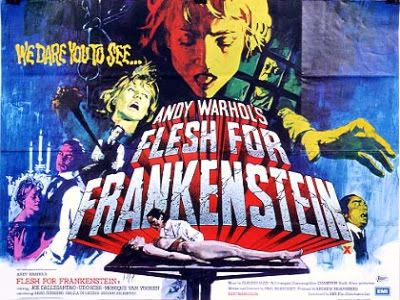 Next we're going to look lovingly upon one of my absolute favorite spins on the Frankenstein myth,often referred to as "Andy Warhol's Frankenstein",though the Pittsburgh native and mop-topped fop had little to do with the production other than lending his name to it,being that director Morrissey had an office in Warhol's New York headquarters.A ridiculously over-the-top homage/piss-take on the very genre it belongs to,Flesh was originally released in field sequential 3D(and re-released the same way in the eighties),you'd have to track down the Japanese print to enjoy it as it was intended,sadly enough.Apart from the obvious,copious amounts of sex and gore that drip off the screen at the viewer,what makes this film legendary,you query?Well,it's obviously not Joe Dallesandro,who spends most of the film naked like table dressing at a homo party,and delivers his lines like a post-stroke Sylvester Stallone on quaaludes.For tonight's entry,kudos are due to Udo.Kier's amazingly frenetic and crazed performance as the racially
pyoo-ah
mad Serbian sister(and guts)fucking eugenical genius is the glue that holds this whole crazy movie together,with sidekick Arno Juerging also giving a memorably mental eye-bugging turn as his assistant,Otto.The gore is dumped in buckets by Italian FX whiz,Carlo Rambaldi,an excellent score supplied by Claudio Gizzi,and second unit director was none other than genre king Antonio Margheriti,with Carlo Ponti pitching in as one of the producers.Even in the flattest 2D format,there's much to enjoy that's being showcased here.So let's embark together,shall we,on the quest for the perfect
nasum
for our male
sssombie
!
The Baron(Udo Kier)and his assistant,Otto(Arno Juerging)quest together for the perfect Serbian nasum.
When he's not having sex with his sister/wife,Baron Frankenstein(Kier)slaves away in his laboratory with his wild-eyed sycophantic assistant,Otto(Juerging),to create the perfect pair of patchwork humans that meet the superior Serbian standard,and to replace "zat worn out trash zat now pop-oolates and re-pop-oolates zat planet."Huh??He's already assembled the perfect female
sssombie
(Dalila Di Lazzaro),but needs a head...with the perfect Serbian nasum to complete his male
sssombie
.The thought of the glory he'll receive,and not the scientific world,when his master plan comes to fruition causes him to take out his sexual arousal on his female's gall bladder,through opened stitching in her torso.Meanwhile, his two creepy children steal body parts from the lab,when they're not dissecting their dolls or beheading them in a toy guillotine,to the chagrin of their pet pirahnas.His sister/wife(Monique Van Vooren) has no time for the lazy,inferior farmhands who spend her brother/husband's money on cheap liquor and whores at the local brothel and ruin her picnics with the children by openly fornicating in the grass a few feet away.She has even less time for her own eyebrows.When Nicholas(Dallesandro)takes his perma-bummed out buddy,Sascha(SrdJan Zelenovic),to the brothel in attempts to sway him from joining a monastery,The Baron and Otto,out headhunting,hear the whores cries of passion inside,and assume that Sascha and his perfect nasum are the ones responsible,when it's really Nicholas doing the ploughing.Otto makes Nicholas unconscious with a good head-clubbing,while the Baron removes Sascha's domepiece with an enormous pair of neck-scissors(!).Nicholas awakens to find his pal's headless body nearby,then reports to the Baron's sister/wife who hires him in the castle as a servant/cock-on-a-leash.Then she sucks his armpits.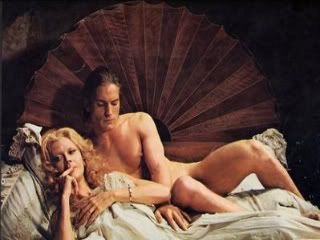 Nicholas(Joe Dallesandro) is a European fahmhand who tawks like a Brooklyn cab drivuh.
At dinner,the Baron introduces two new dinner guests,decked out in body and neckbraces,when Nicholas,who is serving the family,recognizes his friend's head on the male(!).After eating,the Baron tries to force his
sssombies
to copulate,but the male has no interest,enfuriating Frankenstein,who gives the male to his sister/wife to get her fuck on with as a reward for selling out Nicholas,who is then captured,to him.Meanwhile,Otto tries to duplicate his employer's earlier gall bladder-fucking feat with the female,succeeding only in scooping her insides clean like a pumpkin,disemboweling and killing her.When the Baron sees his assistant's feeble bumbling,he strangles him.At this point the male
sssombie
returns from his lovemaking session with the Baron's wife/sister's lifeless body in his arms,causing the ever-more-enraged Baron to order his creation to kill Nicholas who is hanging from the ceiling by a chain.The male creature,still possessing some of Sascha's personality,instead lashes out at the Baron,severing his hand in an iron gate,and running him through on a pole,one of his internal organs skewered at the end.Nicholas pleads with the male
sssombie
to let him down and free him,but the creature denies his request,and pulls his own organs out with his bare hands,preferring to be dead.The Baron's children come into the laboratory,and grabbing scalpels,being to turn the crane wheel that is suspending Nicholas in the air.Are they going to free him or carry on their father's twisted work?The credits roll.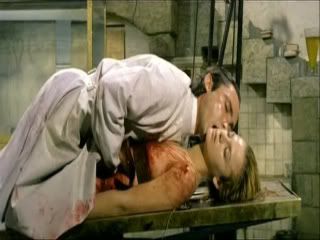 The Baron gets to know life by fucking death in the gall bladder.
Most of the same crew would return the following year for Blood for Dracula(1974),which we'll examine at a later date.Kier,who began his film career as a protege' of Fassbinder,has an amazing list of films under his belt that reads like a who's who of genre directors.He's worked with Argento,Von Trier,Van Sant,Carpenter,as well as artists like Madonna and Korn.He continues to be a living icon of cult,horror,and exploitation movies to this very day.Morrissey,a self-avowed right winger,went on to direct fare like The Hound of the Baskervilles(1978) and Spike of Bensonhurst(1988).Nicoletta Elmi,who played the Baron's daughter went on to act in Argento's Profondo Rosso in 1976,before scoring herself a memorable role as Ingrid the usherette in Lamberto Bava's Demoni(1985).Juerging did All Around Service Girls in 1976 then nothing else.On the scale,Flesh turns the crank on a creaky chain,lifting three solid wops out of a huge tank of preservative fluid.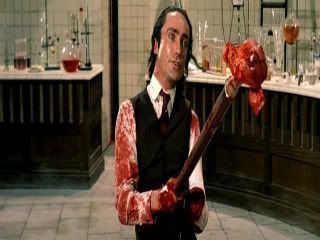 "I don't regret anything!"gasps the eviscerated,handless Baron,"I tried my best!"