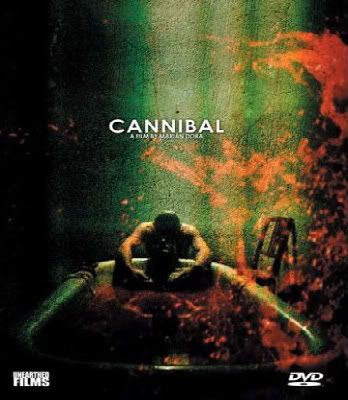 At the start of the last decade,
Armin Meiwes
took social networking on the internet to a disturbing new level,when he posted that he was "looking for a well-built 18 to 30 yr old to be slaughtered then consumed" on a site called The Cannibal Cafe,which distinguishes the difference between
reality
and
fantasy
in a disclaimer,which upon meeting
Bernd Jürgen Brandes
,he apparently skipped over somehow.The awful details of what followed have been well-documented in film and music,and tonight,we'll be taking a look at director Marian Dora's version.Now,I've always been fascinated by true crime,and apart from a few understandable instances which I won't go into here,I've always taken pride in my iron stomach.Up until last year,I haven't been physically nauseous from watching a movie in probably twenty years.Well,all that changed once I closed the dvd tray with tonight's entry in it.Dora doesn't flinch in showing the viewer
every
detail in the disgusting case,and I'd imagine even watching the infamous,tightly guarded
two hour video tape
the two men made in real life couldn't be much more disgusting than Dora's movie.That being said,I have to elaborate a bit here on the subject matter in question,as it wasn't really any of the gore,as ultra-realistic as it was,that made me sick,but all the explicit gay on display was pretty unsettling(I spared you screenshots,you can thank me later).Do as thou wilt is my creedo,and if that's what stirs your pasta,then have at it,by all means,but I turned away on more than one occasion during the ahem...getting to know each other section of the film.The splatter that follows only heightened that uncomfortable feeling I was overcome by,and by movie's end,I was in pretty bad shape.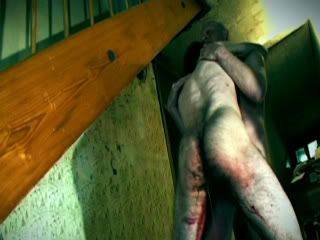 What's grosser than gross?This.Period.
A mother reads Hansel and Gretel to a small boy in the brief opening montage,which segues into an adult man(credited as "The Man",and played by Carsten Frank) scouring over books dealing with the subject of cannibalism.Enjoy that dialogue,it'll be the last for something like twenty minutes or more."The Man" meets several people(and even a woman) in attempts to find his holy grail:a submissive victim who's cool with being killed and then devoured.Frustrated,"The Man" posts his secret desires publicly on an internet forum,and receives a response from another man(credited as "The Flesh" and played by Victor Brandl)who honestly
wants
to be devoured.The two men exchange several sexually charged messages dealing with eating and being eaten before setting up a meeting.Once they meet,there's a whole lot of man-on-man ham-slammin going on."The Man" packs "The Flesh"'s fudge."The Flesh" pushes "The Man"'s stool in for him.Etcetera,etcetera,etcetera.This type of thing goes on forever,until they both collapse exhausted on the floor.I think Liberace would probably think they overdid it with all the gay sex.Finally,"The Flesh" says,"It's time",which is naturally code for "Bite my dick off.",which "The Man" cannot bring himself to do(although he sure tries)."The Flesh" suggests that if he were sleeping,"The Man" might be more readily able to bite his dick off,so he swallows a liberal dose of painkillers,passing out.When he awakens,he finds "The Man" huddled in the corner of the room,naked and crying.Angry that "The Man" has yet to eat his genitals,"The Flesh" demands a ride to the train station,but when the two twisted fucks arrive,he has a change of heart and decides to give the cannibal-in-theory one more chance. Once they return to his house, they both realize that there's no turning back from the inevitable,titular cannibalism.Hey,at least they aren't gonna fuck each other's asses anymore.
"Yeah,officer,I lost my underwear in his thoracic cavity,and I was just digging them out..."
"The Man" then cuts off "The Flesh"'s dick with a knife,and when "The Flesh" is unable to eat his piece raw(!!),"The Man" kindly fries up the whole thing on the stove a la Molto Mario or something while "The Flesh" howls in pain and leaks blood like a kosher killed hog.He feeds his dickless pal his portion,but he's obviously in too much pain to enjoy it(!!!),so he fills the tub with water,and puts his heavily tranquilized meal in,to die.When "The Flesh" doesn't seem to be dying fast enough for "The Man"'s growling stomach(in real life,Meiwes sat reading Star Trek books for upwards of three hours while Brandes,high on painkillers,sleeping pills,and schnapps,moaned away,bleeding to death in the tub),he kisses him goodbye,then stabs him in the neck,which finally does the trick.He strings the corpse up,upside down,drains it of blood,removes the head,peels the skin,cracks open the ribcage,removes all the organs...yeah,you get the idea.He then sits down to a self-prepared meal with "The Flesh"'s head propped up on the other side of the dinner table like some macabre centerpiece from Hell.And YOU thought your fetishes were weird...
Next week on Gordon Ramsay's Kitchen Nightmares....
As a gross sidenote,Meiwes took 10 months to eat over 20 kg of his butt buddy's meat,storing body parts under pizza boxes in his freezer,and even trying to grind his bones to use as flour.He buried the rest in his yard,and was only caught after fishing for ANOTHER meal on the internet and openly bragging about his previous one.In 2004 he was convicted of manslaughterand given an eight and a half year sentence(because,get this,CANNIBALISM was NOT illegal in Germany at the time),which was later changed to murder after a retrial on prosecutors appeals,earning him a permanent home in the stripey hole,where he now resides as both a member of the Green Party and...are you ready?A vegetarian.I couldn't make this up if I tried,really.A brutal horror movie hiding behind the guise of an art film;I'll probably never watch this fucking thing ever again,but the lone time I sat through it,I was pretty fucking sickened,so,congratulations,Dora,you succeeded in thoroughly disturbing this guy over here(who's seen his fair share of sick shit,fought many a good fight,and slept with many a good woman in my day),which is no easy task,and for that alone,I give your film a Wopsploitation score of:
Remember,a good table centerpiece can pull the theme of your meal together.