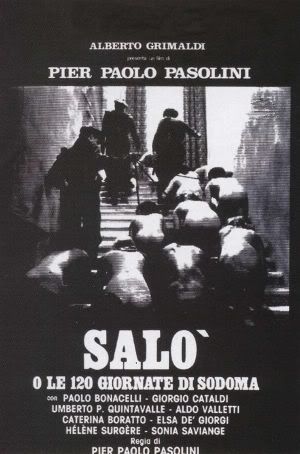 The year was 1985.I had just received another package of movies from a good friend of mine in Chicago who I'd been buying mailorder original genre vhs tapes from,and amongst the titles in this particular shipment was an obvious bootleg with a zeroxed sleeve glued over a common vhs dustcover.His packages usually came with a funny,upbeat letter,peppered with personal updates and pleasant small talk.Not the case this time."You asked about Salo' in your last letter.I liked it so much I passed my own personal copy on to you.ENJOY.",was all it said.All I had asked previous to this sudden sombre tone,was if he had ever heard of the movie,and perhaps expressed some interest in seeing it for myself,after reading the title in someone's list of necessary cinematic evils.I'd seen all the others on the list,and quite frankly,none of them were all that evil.That afternoon,I ate dinner in front of the parlour television and screened Pasolini's infamous final film.Perhaps I should say,I
tried
to eat dinner,before the nauseousness took over.What passed before my eyes that day was the sickest,most degenerate and perverted excuse for a movie I had ever seen up to that point.I've probably seen a few that give this one a run for its money since,but I'm not a fifteen year old anymore,unfortunately.
A transpositive satire based on the notorious "120 Days of Sodom" written by the Marquis De Sade,and even more loosely,on Dante's Inferno,Salo' replaces the most cruel and depraved writings of the Marquis with vicious unsympathetic barbs against human nature,the struggle for and ultimate corruption of absolute power,and of course,fascism.Limply placed political slander aside,this is a brutal movie,certainly not for all cinematic tastes;I liken it to the cinematic equivalent of Serrano's "Piss Christ".Is it art?Is it a masterpiece or simply a vile piece of shit dreamed up by yet another pseudo-intellect-cum-pervert?I'll let you draw your own conclusions on what exactly it is,and where it belongs.What follows,then,is the review I swore I'd
NEVER
be able to write...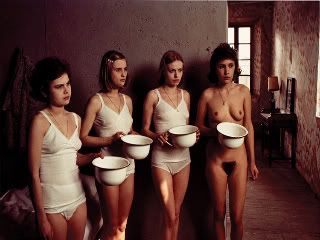 "Stool inspection again??" bemoan the curvaceous commie captives.
Anteinferno:In the fascist-occupied region of Italy at the tail end of World War Two,four powerful leaders(The President,the Duke,the Magistrate,and the Bishop)devise a twisted plan to retain absolute power for themselves,realizing their reign is on borrowed time with the impending allied advance.First,they agree to marry each others daughters.The second step is carried out by armed gestapo,who kidnap eighteen of the rival partisan/communists' children,nine boys,nine girls,taking them to a remote palace for a brutal four month period,accompanied by four middle aged whores whose ribald and depraved tales of carnality will sexually arouse the leaders into fleshing the stories out on their young captives.
Circle of Manias:Mrs. Vaccari(Hélène Surgère) relates mild,non-invasive stories of sexual perversity(at the ripe old age of
six
!) to the men,who chastise the prostitute for not going into more lurid descriptive details describing the acts she once performed:i.e. the size of the solicitors' genitals,the intensity of their climax,etc.,etc.The children are told they are already dead to the outside world,and they must adhere to even the most degenerate demands of the men at all times,else their names will be written into a book,assuring them a fate far worse than any death one could dream of.They force the naked children to act like dogs on leashes,barking and begging for tablescraps,which one of the leaders jams full of nails and forces a young girl to eat,tearing her mouth apart.Good little doggie.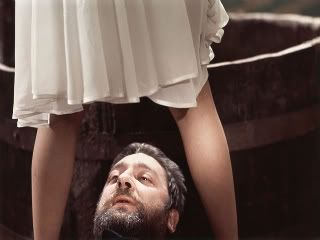 Golden showers bring righteous power;The Duke is A number one with this girl's number ones.
After the Circle of Manias naturally comes the Circle of Shit:After hearing the next whore's deuce-based debauchery,the Duke,aroused by the sight of a young girl crying for her dead mother,drops his trousers and pinches one off in front of everyone,then forces her to eat it with a spoon.All the children are fed a diet of spoiled food,then their bedpans are checked nightly to make sure they have not defecated,in preparation for an elaborate shit feast(!).At the dinner table a giant silver platter of human excrement is brought out,the cross-eyed President tells shit jokes with his shit-covered mouth,then shows everyone his fancy ass,demanding that one of the male guards penetrate it for him.There's even a male-on-male shit kiss in here somewhere.
The Circle of Blood begins with an elaborately bizarre mock-marriage between the guards and the leaders,after which the Bishop takes it in the shorts from a guard with a monster endowment.Then the captives start to rat each other out to their kidnappers;one girl is found to be hiding a photograph(not allowed!) which leads to two other girls having a sexual relationship after lights out(unacceptable!)which leads to one of the fascist guards sleeping with a black maid,both of whom are dispatched with bullet-riddled domepiece death for doing so.Finally,all of the captives who somehow broke rules or refrained from obeying the leaders in some way,ending up in the book of names,are brought out to the courtyard,to be tortured and killed horribly in a bloody orgy by the men and their guards for their disobediance.Scalpings,brandings,eye-gougings,tongue removal,genital burnings,gang rapes,
everything
goes at this party,with the leaders voyeuristically taking turns watching the sick spectacle through binoculars in a picture window while the remaining three participate(and form a chorus kickline in their bathrobes.Nice.).Two young collaborators,desensitized by the horrific violence before them(and acted out upon them) have become fascist guards,and dance a waltz together.
If thine own tongue offends thee,have a group of semi-nude perverts cut it out for you.
Pasolini,a gay Marxist and so-called intellectual in a country torn by perpetual power struggles between communism and fascism,rubbed both sides the wrong way throughout most of his career,ultimately leading to his brutal murder,where he was allegedly called "a dirty communist" and "a piece of shit" before being beaten to death then driven over by car multiple times after soliciting a male prostitute for sex and driving to Ostia where he was killed.Personally,I don't think its entirely out of the question that this,his final movie,a scathing and visually disgusting satire of Mussolini's regime in World War Two Italy,was the final nail in his casket.Despite what those who would champion this sort of thing as a cautionary tale of the evils of fascism and power,you can't help but think the moral of the story is a thin facade for the jollies that sex freak Pasolini got from the subject matter itself,and presenting it all to the audience without an iota of humanity behind it.Taken as a moral warning,the perverted leaders are far too cartoonish to ever be taken seriously by anyone with half a brain(Beware the Duke with a beard full of piss!The cross-eyed President with a mouth full of shit!The sadist Magistrate with his whip and nail-laden cheese!The gay Bishop who's a sucker for enormous penises!),and on this level,it fails miserably.Pasolini was merely an extreme pervert playing out his OWN twisted fantasies here,and it's plain to see.Politics aside,the film does precede torture porn like Hostel by a few decades,and is worth a look if that's your bag.Truly one of the most outrageously over-the-top films ever made,and for that and that alone,I give it: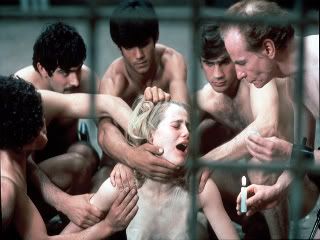 "Fibromyalgia,my shitty ass!",exclaims the President,"Smell this candle's papaya and mango fragrance!"