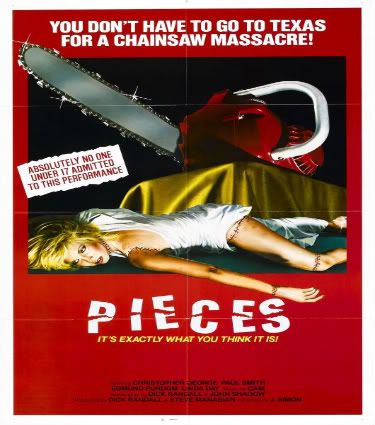 Tonight,we're gonna peer luridly through a half shut eye like we were Paul "Bluto" Smith at something of a minor splatter classic from the eighties that has a little something for everybody.I'm not shittin' ya.Though tonight's movie has several elements of,and tries desperately to be a
giallo
,anyone who would call it one is obviously mentally exhausted,and needs to lie down,before they say anything else assinine.Simon's directorial effort is so full of unintentional humor,ridiculous dialogue("There's nothing like smoking pot and fucking on a waterbed!" "I don't want to wait for the coroner's opinion. Can you give me yours? Do you think that chainsaw could be the murder weapon?"),continuity errors,and script holes,you just might think he set out to make a full-blown comedy,if not for the abundant gore and melodrama spewing forth from actors Christopher George and Lynda Day George,who both add to the belly-laughs throughout.The whole production reeks of vintage eurosleaze,which one could fesibly attribute to the screenplay being co-written by Joe D'Amato,the Italian sleaze king.This one is so much fucking fun to watch,I dare you not to have a great time screening it with buds and beers.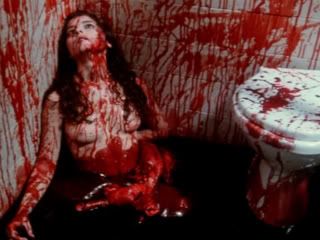 That's a pretty pensive look for somebody who's cleaved in half.
A young bobblerhound pieces together a nudie jigsaw puzzle in Boston in 1947(don't let the modern New England Patriots banner on the kid's wall throw you,despite the fact the AFL team formed in 1960 was the
Boston
Patriots and didn't change to New England until 1971...these are
mere trivialities
,kids!),and when his mother breaks his eggs about it,he abruptly buzzsaws her ass into pieces and blames it all on an unknown madman,thus,getting away with it.Decades pass,when suddenly a mysterious black gloved,chainsaw wielding psychopath starts wantonly whittling away at women on a college campus,using bits from each to piece together a patchwork version of his mother from all those years ago.It's Harvard University,by the way.What other Ivy League institution would hire Bluto as a gardener,Bruce Le as a Kung Fu instructor,and is chock full of air-headed sex-crazed bimbos who get naked at the drop of a dockworker's scally cap?The local constabulary is called in,and though Detective Bracken(George) has taken Bluto into custody as a suspect,he has no leads.Though naked dismembered chicks are turning up with frightening regularity,the police and dean agree to keep a lid on it,so naturally,
more
chicks will venture out alone after dark,thus keeping the killer in fresh body parts for his gruesome puzzle.Kendall(Ian Sera),is a dork/student/sex machine who becomes Bracken's top suspect when the murders continue despite the detainment of Popeye's arch-nemesis.Soon afterwards,when Kendall is cleared of all possible charges,the detective invites him to help out with the investigation.You know,I thought you
might
be the killer,but since you're
not
,do you mind being
deputized
?Makes total sense.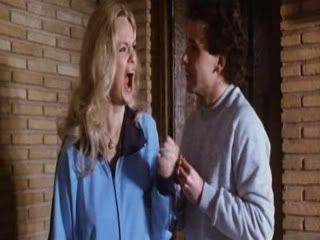 "Bastard!Bastard!BAAAAAAAAAASSSSTAAAAAAAARRRRD!"
Bracken then brings in Mary Riggs(Day George),on her first undercover assignment,as the university's tennis pro,who,on the court can barely hold a tennis racket.Despite using the female badge as bait for the murderer,Bracken immediately identifies her as a cop to Kendall,who,you might remember,was a top suspect.As she flaunts her goodies walking on campus at night,she's assaulted by a Chinese fella who kicks the flashlight and gun out of her hands before taking one of hers right in the egg purse.Turns out,Harvard has a Kung Fu instructor,who randomly kicks at women at night on campus after eating bad chop suey.When Riggs and Kendall discover yet another slaughtered daughter's eviscerated remains,she pumps her fist at the heavens and screams,"Bastard!" so unconvincingly she makes William Shatner look like Daniel Day Lewis.When Bracken finally draws a bead on the killer's identity,he takes the student along to make the collar,and save Riggs,who's been grabbed by the black garbed fiend,after he drugs her in his office,reducing her to a moaning stiff.Yeah,it's the dean.Apparently,a high profile place of learning doesn't have very stringent screening policies for the head of its faculty,nor did his administrative duties cut into his chick-chainsawing extra curriculars.Also peculiar,is the fact that he keeps his incomplete patchwork woman corpse in his office.Do the cleaning staff just dust around it?Finally,when all is said and done,the damned thing comes to life and slaps a Swedish grip on Kendall's package through his jeans,mutliating his genitals as his screams cut to a freeze frame.This,also,makes a lot of sense.
"...although one goes to bed, apparently free of grit, when you get up in the morning, your bed's always full of bits!"
Simon also directed genre fare like Slugs and Pod People,though this,is definitely his crowning(right!) cinematic achievement,as far as I'm concerned.Brit Edmond Purdom and Italian western veteran Frank Braña are also credited here,as well as Bruce Lee imitator,Huang Kin Lung("Bruce Le") for some unknown reason.Eli "Hostel" Roth cites it as one of his favorite movies,and his bizarre Pancakes sequence in Cabin Fever had to draw some influence from this entry.Either way,it definitely delivered the goods it promised on the box art at a time when elaborate packaging often hid the fact that nothing much could be found inside.Nothing could be further from the case here.I'll sneak up on the scale with a revving chainsaw behind my back,and hack two respectable wops as a rating.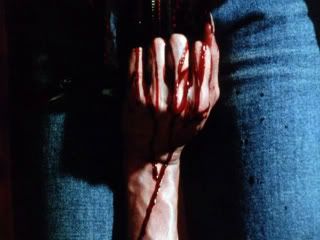 A crotch grab that Michael Jackson'd be envious of.