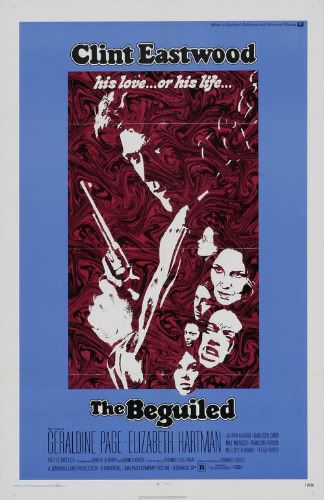 I'm not gonna sit here and blow chocolate kush smoke up Eastwood's turd cutter.He's had a lifetime's worth of praise from tough guys n' skirt-wearing Sallys alike.He's gotta be sick of hearing it.As much as
I
like to bask in positive acknowledgement for
my
work,when the compliments start creepily multiplyin' and I find myself standing alone on the main drag in Uncomfortable City,the only feasible remedy is to start throwing bombs like a younger,heavily tatted up,better looking Philo Bedoe until my ears are once again filled with the sweet whimper-music of the broken and conquered.Clint's always been one of my favourite actors.That's all you get,Eastwood.I don't wanna bake you a cherry pie,get a headache listening to that awful jazz you seem to like,or
ever
see Firefox again.You got a problem with
that
,you old punk,I'll gladly hold the door for you,showing respect for my elders,before I feed you a mouth fulla Wop knuckles and check your eighty year old ass into Hotel Zzzzzzzzzz.
Now if you asked me about my favourite Eastwood vehicle,you might be surprised to find that it wasn't a Leone western concerning a mysterious gunman or a Siegel drama centered around a cop that marches to the beat of his own drum.My favorite Eastwood movie is tonight's review,a dark,moody period piece about deception and what happens when you scorn those of the fairer sex,a mostly unsuccessful film whose promotion was thoroughly fumbled by Universal Studios who had less idea on how to market its release than Rod Marinelli had on how to coach a professional American football team in 2008.They tried passing it off as tempest in a teapot fare,played out in a conservatoire,even misleadingly posing the action star with a gun in the one sheet(above).They even tried rewriting the ending,but director Siegel and Eastwood both balked at the idea,preferring to remain truer to the 1966 novel,"A Painted Devil" by Thomas Cullinan,on which the screenplay is based.The film comes with my highest recommendation,of course,but be forewarned,this isn't the typical punch 'em up/shoot 'em up Eastwood you've come to know and love.This is an amazingly sombre film,brilliantly executed by all involved,and a must see for all lovers of great cinema.You'll have a hard time driving it from your mind after the final credits roll.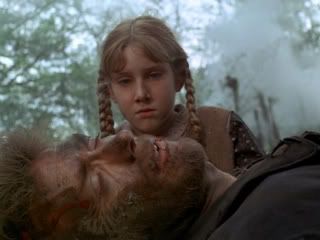 Amy(Pamelyn Ferdin),who's not too young for kisses,saves the life of Union Corporal McBurney(Eastwood),who's not too wounded for treachery.
Towards the end of the American Civil War,Union Corporal John McBurney(Clint Eastwood)is seriously wounded while fighting on the wrong side of the Mason/Dixon line.He is rescued by 12 year old Amy(Pamela Ferdin),a young student at an all-girl academy in Louisiana,while she picks wild mushrooms in the forest.Back at the school,the girls unanimously agree to nurse him until he's healthy enough for the passing confederate soldiers to pick up and haul off to jail.As he slowly recovers his physical prowess he also wins the trust and subsequent lust of the schoolmistress(Gerladine Page),who's brother(brother-plus,these two are a little more than siblings.Blech.) is off fighting for the stars and bars.It isn't long before the silver-tongued Yank is weaving a tapestry of flattery and deceit around everything with a petticoat(or even a hanky wrapped around her head).He resists the headmistress's carnal advances in favor of the mousy,younger schoolmarm(Elizabeth Hartman),sparking the brother-fucker's jealous wrath.The younger,sexually experienced Carol(a deliciously sexy Jo Ann Harris)soon takes on the persona of an alley cat in heat,ultimately sneaking off to McB's room for that he might break himself off a piece,igniting the scorn of the wallflower/teacher.Hell,he even introduces the pre-teen Amy to the world of lip fu,after which she confides to her pet turtle that he loves her.McB,yer a dog,spelled d-a-dubya-g.
McB fancies the alluring young siren,Carol(Jo Ann Harris).East would,and so would I.
He even manages to get flirty with the negro servant while she shaves his face and pines for her slave husband,but horny confederate enemies passing through make his games of the heart seem almost tolerable to the lonely southern belles,until the schoolmaster's jealous rage sends the corporal tumbling down the steps towards a compound fractured leg,which the vengeful femme
amputates at the dining room table with a hacksaw(!).
Awaking to life as a cripple sends the salacious soldier into a drunken,vitriol-laced bender,where McBurnley holds the school at bay with a pistol,announcing that he'll have any woman that wants him with no more resistance from them,his life now mirrored by a blackbird the girls have tied to an upstairs window railing by a string.As a final act of intoxicated aggression,he hurls the twelve year old's pet turtle to the ground,effectively destroying the last semblance of feelings any of the women might have had for him.A more reasonable clear and sober head at the dinner table finds the corporal apologizing for his earlier actions,announcing plans to quietly marry the young Edwina and start a meager life together,but alas,it is too late to extinguish the fires of hatred he's ignited in the hearts of his captors.His rapidly blurring vision and the girls aversion to the bowl of wild mushrooms during the meal suggests that innocent little Amy may have indeed mistakenly picked the wrong type of mushrooms earlier that day,leading to the grimmest of downbeat finales imaginable.Bravo.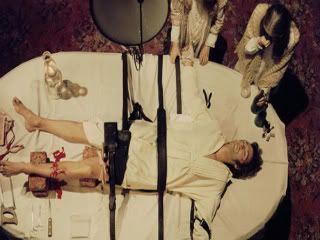 Save me a wing,girls.
16 years after the production was released,two of the female stars,Geraldine Page and Elizabeth Hartman died within three days of each other,Page by heart attack,Hartman,a suicide.Also on board here is a very young Melody Thomas,who would later find genre success in Pirahna,before snaring a long-running part on soap opera,Young and the Restless.Though Siegel and Eastwood were eluded by deserved kudos from fans and critics alike for tonight's entry,they would find enormous success working together on their next motion picture,involving a hot dog devouring character named Callahan with a large handgun and a propensity to fire it
before
asking questions,the following year.For my money though,
this
review solidified Eastwood's place among the top actors of the day,and even,all-time,for that matter.You really owe it to yourselves to hunt down a print of this one and give it a shot,you'll be pleasantly surprised,especially if you enjoy dark,creepy atmosphere in movies the way I do.Oh by the way,I was,indeed,smiling as I wrote that bit in the top paragraph,Blondie.Keep those hands outta the poncho,where I can see 'em.Four wops,and your humble N's highest recommendation.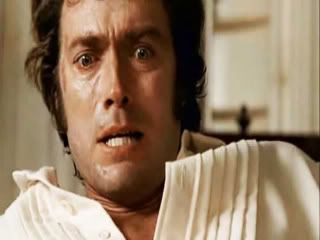 "Great Caesar's ghost!I've just overdosed on tragic mushrooms..."