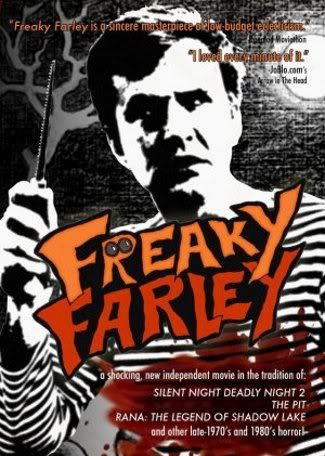 I get a wide variety of interesting e-mail in my inbox through the site,and whether it's a person curious about one of the titles I'll look at under the wop-roscope,or a company looking to advertise their latest goodies,I answer them all,because I love the interest people show towards the genre movies that I've built the site around.If I can turn you on to a movie that ends up being one you've enjoyed,or even merits a place among your favourites,then I've done my job here,for sure.One such e-mail came very recently from someone who enjoyed my take on Lew Lehman's 1981 sleeper,
The Pit
,and that somebody turned out to be Matt Farley,the star/producer of tonight's entry,an original little slice of regional indie filmmaking that harkens back to the bygone days of d.i.y. splatter,as well as co-writer of a series of genre film review books you might want to look into at their
Shock Marathons site
,if such subject matter grabs you(and,
of course
it does,so go pick them up!).
So I receive a screener in the mail yesterday,with an impressive dustcover full of praise from genre staples like
Shock Cinema
and SCREEM,and thus,was very eager to slip it in for a viddy with me trusty headphones on,once the lovebirds took to the sack tonight.I can't put my finger on exactly what it is,but there's an atmosphere about tonight's review that reeks of the mid-eighties heyday of video rental.Maybe it's the fact that the entire production was shot on film,maybe it's the casting of amateur friends and family members,maybe it's the synth score.Whatever it is,I felt like I grabbed Farley off the shelves at General Radio in Wilkes-Barre in 1985(along with,I dunno,Nurse Sherri,Boarding House,and Des Morts),and that's a good thing,indeed.Immediately,it becomes apparent that the filmmakers have a deep-rooted love for that era,and for low budget horror flicks of that period,but the movie,for all its paens to late seventies and early eighties horror,has an innocent feel that most of those titles lack.Campy fun.Fear Freaky Farley,indeed.
"Dreamy slumber party girls" having a pillow fight in the middle of the afternoon.Lose the pj's,throw in a wading pool of massage oil,and I'm sold.
"Freaky" Farley Wilder(Matt Farley)is one of several neighborhood oddballs.There's a bearded hobo,a witch,and a guy in a Party City ninja costume all vying for top flake in the cereal bowl.In comparison,Farley's more the misunderstood,maladjusted type in a striped Where's Waldo shirt,considering he seems to only peep tom the town's female populace when they're fully clothed.Farley relates his tragic story to a doctor's tape recorder while chained(!)in a mental institution visiting room.After his mother's untimely death,his totalitarian father(Kevin McGee)regularly has the youngster digging ditches in the woods then filling them up,everytime he disobeys.Fast forward to adult Farley,who still dresses like a Long John Silver's cashier.He purposely ignores the wooden pleas of his pop to grow up,choosing to float down river in an inner tube rather than get a job at the phone company(after his come ons to the elderly job interviewer are unwantedly successful(!!)),resisting the juvenile teasing of his full-grown female neighbor(who wears pig tails and rides a bicycle)and the cautionary warnings of dangerous nearby Morgantown woods full o' trogs from the bearded hobo,who gaffles his inner tube in the process.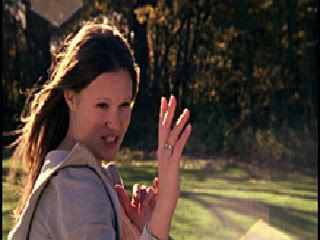 Scarlet(Sharon Scalzo)unleashes 'cutie-pie fu' on one of the town's resident nutbags.
Until he meets the daringly sweet Scarlet(Sharon Scalzo),who's writing a manuscript about all the local nutbags,and helps her new friend bloom away from the wall for a change.They steal the keys to his father's cabin and plan a rendezvous there,but when Farley's old man shows up on the scene,interrupting his son's pumpkin-carving and dropping the "yer momma done been offed by de trogs,not no car accident no how!" bombshell,he stabs his dad to death with the carving tool.Outside the cabin,Scarlet has fallen prey to the foul beasts in ghillie suits and rubber claws(I could have sworn I spotted a sneaker or two in there,as well haha)and with her dying breath tells Farley to get her manuscript published,which he translates to "kill everyone you can with that carving tool,Farley!",and goes on the obligatory apeshit killing spree,tearing foliage from trolls and stabbing up some jock throwing the pigskin around with a buddy.He's about to unleash seasonal orange metal vengeance on the annoying girl next door,when he gets bricked upside the domepiece by the fragile guy in the ninja suit,landing him in his current nuthouse predicament.Luckily for him,the mayor is at wit's end about the town's trog problem,so after hiring the witch to spook the beasts away with spells(!),he releases Farley from the mental hospital to help her for one day since he's shown prowess in defeating the foul forest-dwelling hellspawns(!!),and even thrown the ninja into the mix,since
he's
apparently Farley's "arch-enemy"(!!!)after the brick incident.The witch gets eighty-sixed by trogs,but Farley springs into action,tearing the creatures asunder with his bare hands(you REALLY owe it to yourselves to check out the dialogue in this portion of the film,it's rich,indeed.).Afterwards,he thumps the ninja and makes off for the radio station where the aforementioned pest next door has a show,thanks to Farley's dad.He breaks in,and slices up the station manager and his pigtailed object of hate,before declaring on-the-air,that Freaky Farley is loose.Cue some appropriately cheesy maniacal laughter here.
Hey Farley,I'll have three chicken planks,add a piece of fish,hushpuppies,and a large Mountain Dew.Hold the freaky.
For more up-to-date info on what Matt and his minions have planned next,you'll want to check out the New England based
MoternMedia
site,where you can access their music releases,as well as their films.Their next film project,a co-production with Goblin Universe,"Don't Let The River Beasts Get You!"(peppy title,guys.)is scheduled for a 2012 release.I've gotta give these guys a major tip of the cabbie for shooting with film,a much appreciated rarity here in the days of digital video.As always,I'm gonna repeat the mantra,"support indie filmmakers",and check out what they have to offer,which,for most of you woprophiles out there,will be a refreshing change of pace against the sea of studio-concocted CGI-driven crap that turns up on SciFi(or "SyFy",for you douchebag hipsters)more often than not.I'd place Farley right next to guilty eighties pleasures like Cannibal Campout,Splatter University,or The Ripper,low in budgetary means,but high in entertainment value.Get your hands on a copy.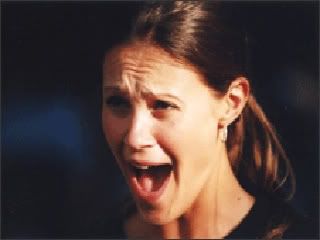 What an adorable scream,don'tcha think?