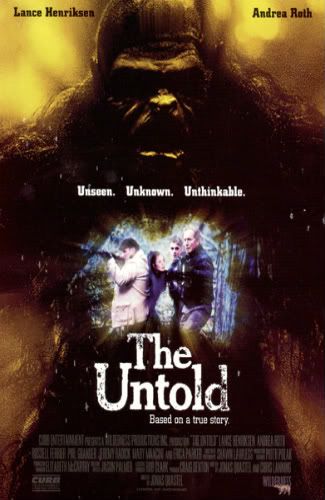 Once again,the Boss of the Woods pokes his anthropoid peepers out from behind a massive redwood just long enough for another genre cameo,this time a Canadian indie feature,known south of the maple leaf,as "Sasquatch",and marking the first of a few sightings in the past decade, of Lance Henriksen in a 'foot flick.Andrea "Rescue Me" Roth is also on board here for a surprisingly fair slice of squatchploitation with several passable moments that just might leave an oversized footprint in the hairs on the back of your necks if you aren't careful.My main argument against the film achieving anything more than meager monster-driven mediocrity is a double-edged gladio;Adequate suspense is built throughout the movie with shadows in the trees and the obligatory heat based monster's eye view a la Predator.It's just that after all that buildup,the film suffers from terminal Snowbeast-itis(see:1977 Bo Svenson Yeti-terrorizes-ski-resort-and-ends-up-looking-like-missing-member-of-the-Banana-Splits telepic for details).Thyrza Richardson,the FX-slinger here,totally dropped the ball,opting for a baldheaded,oilslicked Captain Caveman look,instead of the more familiar hair-covered evolutionary rascal we've come to know and love in other efforts.Slightly attention-grabbing,but better served with the rest of Richardson's work on Stargate:Atlantis than carrying a murderous MoMo movie.Also raspberry-worthy here is the total lack of the red red kroovy throughout the picture.Everybody knows when you place several unlikeable characters in the middle of a vast b-movie forest setting,the payoff for the audience is seeing them snuffed in gross and inventive ways.You aren't gonna get any of that round these parts,stranger.The few deaths are sadly,off-camera and pretty bloodless.If those factors were both strengthened beforehand,this could have very easily gotten mo' love.The story,is said to be based upon "true events".Yeah,and an hour and a half of Gallagher smashing fruit and vegetables with a mallet is said to classify as comedy.
Did Andrea Roth have a bobbler double?If so,does said pair o' stunt tits have my phone number?
Self-made president of Bio Comp Industries,Harlan Knowles(Henriksen) has organized an expedition into the mountains,headed by Winston Burg(Phil Granger),a big game hunter/author,and guided by one of those annoying all-knowing part-native American types named Tyne(Russ Ferrier),to locate any survivors from an earlier company plane crash which his daughter,Tara(Erica Durance),was a part of.Knowles must have assembled his crack team with an emphasis on heavy douchebaggery;Burg is a flask-tipping snob,while Tyne's the obligatory outdoorsman who's probably never seen a cordless phone,let alone a gps unit.And they get worse from there.Knowles' technerd assistant is a thinly veiled cryptozoology buff who's constantly spouting folklore and striking out with the ladies when he isn't looking for a random Cadborosaurus in the waters of the mountain's lakes.The team's eye candy,Marla Lawson(Roth)is a ruthless gold-digging opportunist slut,offering Knowles a slice of hair pie as reward for letting her plunge her siphoning proboscis into his company's cash veins.Knowles,well,he looks around a lot,thinking about all the opportunities he's blown to salvage his relationship with his daughter,who could be very well toes up at this point.Something spies on the bickering city-slickers as they trudge through the forest,just beyond their line of sight,in the shadows.Burg fumbles the ball in finding the plane wreckage,which,by coinciding scratches in the towering redwoods,was dragged for miles by something from the point of impact.Burg wings a male grizzly bear,who turns up writhing in agony on the forest floor with a broken neck from a massive boulder wielded by...something.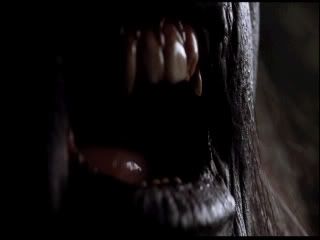 Sasquatch or early Pogues gig closeup.You make the call.
After happening upon a cave full of primitive drawings along the way,
and
while Tyne discovers rancid-smelling hair samples on trees,
and
Burg is busy revealing himself to be a drunken story-embellisher with a nervous trigger finger and little nature savvy,Knowles stumbles upon the real reason he put the search party together,a black metal box that resembles an old top-loading vcr with a shoulder strap,the portable prototypical focus of a project called Huxley,that can classify any living human or animal's dna in seconds.So yeah,put that "World's Best Dad" coffee mug away for now.The techdork gets a video camera in the plane wreckage working,and Knowles is treated to Blair Witch-style narrative from his hysterical daughter after the crash,and the other survivors shooting wildly out of the twisted hull at whatever it is that dragged them from the site,having taken a blood sample from outside the plane that the Huxley machine,with its full database of all known living things,classifies as "unknown".After Burg is stripped of party leadership,he's relieved of living by a massive shadowy figure in the darkness.While the others search for Burg,Lawson makes off into the woods with the dna unit,and after Tyne discovers a sheltered burial mound that includes month-dead plane wreck passengers,including Knowles' daughter,and Winston's fresh corpse to boot.They stumble upon Lawson's twisted body in the foliage,with Knowles snatching up the undamaged Huxley box,then ordering the remaining survivors to descend back down the mountain without him,allowing him a mano a claw-o square off with the shadowy hulk that killed his daughter.Knowles loses.Awakening from his shit-kicked-outta-me,he discovers he is lying next to a primitive grave for the sasquatch that his plane hit and killed when it went down,and a living sasquatch observing him from a short distance away.Understanding why the beast had been so bloody umpy in the first place,he raises his rifle,but instead of plugging the legendary monster,he shoots the box instead.When he looks back to see the creature's response,it has disappeared into the mist.On the mainland,nobody believes the crazy technerd's wild Bigfoot stories,and he gets institutionalized for his troubles.True story according to who,Baron fuckin' Munchausen?
Using his magical crypto-vision,Bigfoot noticed the selfish campers were burning a fattie without him.
While Henriksen continues acting in movies and television,even supplying his trademark gravel-grinding voice to video games,Ferrier worked mostly on tv series,and hasn't done anything of note in a couple of years.The same is true for Granger,who can be spotted in Galactica spinoff,Caprica,and the V series remake.Roth,the curvy Canuck,most recognized as Denis Leary's troublesome wife on Rescue Me,also does other tv work.Director Quastel,who made his debut with tonight's entry, continues to toil away in lesser genre fare like Ripper 2:Letter From Within,and Scourge.Like I said earlier,it's no Legend of Boggy Creek(1972),but then again,it isn't as bad as Sasquatch Hunters(2005)either.As middle of the road monster mayhem(light on the mayhem)it earns two wops on the ratings scale.Worth a look,especially if you dig He of the Oversized Footprint and Smelly Ass forest clan,and the myriad of b-level movies made in His image.
"I'm not gonna chuck you through the forest,Henriksen.You were in Piranha Part 2,you've suffered enough."