Haaaaavin'...haaaaavin'...HAAAAAAAAAVIN'!Havin' some summer fun.I haven't had a song this jammed up in my head since Bro Smith warned everybody that Bigfoot was comin' and liable to get us if we didn't watch out,back in 1977.Speaking of "He who was shakily caught on 16mm film in 1967 displaying a sagital crest and big,hairy bobblers for the world to see",the makers of
Freaky Farley
are back at it again,with another independent film worth noting here at the Wop,the alliterative Monsters Marriage and Murder in Manchvegas,and your humble N's here to tell you:This is a highly bizarre and thoroughly entertaining budget restricted ride through a weird world full of newspaper routes and childish pranks,detectives who stumble through their lines like they're banged out on quaaludes and half-nude babe-napping gospercaps.Yeah,there's a little bit of something in this production for everybody.Roxburgh and Farley pulled out all the stops this time around,playing within their limitations,going for laughs,with enjoyable results indeed.And then there's that song.I won't even go into that at this point.Big studios dump millions into retread ideas like Avatar,aka/Dances With Aliens,or Skyline,aka/Titanic with Aliens,when homemade films like this one serve up laughs with a sincerity and innocence those overblown piles of crap sorely lack.Not to mention,these guys are inspired by b-movie gold from the seventies,and that's never a bad thing around these parts.Pick up a copy of Monsters for yourselves from
Farley and Charlie
,chances are,you'll see exactly where I'm coming from here.
Goddamned Crispin Glover lookalikes get all the hot brawdz.
Marshall(Matt Farley),Jenny(Marie Dellicker),and umm..."All-Star Pete"(Tom Scalzo) comprise M.O.S.,or the "Manchvegas Outlaw Society",although you wouldn't see these cats rolling around New Hampshire on choppers or throwing each other out plate glass bar windows,they're more likely to be seen pulling a red wagon full of newspapers,paperback novels,hot dogs,and lemonade around the neighborhood while wearing their custom personalized M.O.S. jerseys.So,despite their name,they're not tatted up one percenters as much as they're a group of twenty-somethings caught in a Little Rascals/Josie and the Pussycats vortex of clubhouses,tin can phones,and prank offs with Southcott(Bryan Fortin),Manchvegas' version of Richie Rich,except he's pushing thirty and highly jealous of their afternoons spent rope swinging into the Merrimack River,and self-produced number one single,"Summer Fun"(there it is!),that they peddle from their wagon while delivering on their paper route.Jenny seems to be slightly outgrowing the adolescent hijinks,going out on dates,which get sabotaged by Marshall,who's secretly got Kindergarten-style hots for her,in between her M.O.S. missions.Meanwhile,Melinda(Sharon Scalzo)has her sights set on Vince(Kyle Kochan),but her father(Kevin McGee) objects to a potential romance between a girl in finishing school and a grocery store broom pusher.When Melinda decides to skinny dip in the river(Some slo-mo and full-frontal nudity would have been choice here.Just sayin'.),pelting her disinterested Crispin Glover lookalike beau with discarded clothes,she suddenly goes missing...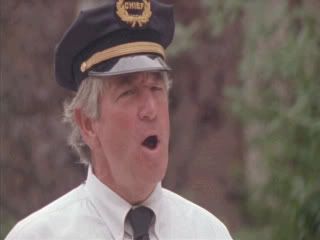 "There are rules and reguulershens.I MUST FOLLOW."
While Manchvegas' top detective(James McHugh)stumbles over clues...and his own dialogue,M.O.S. discovers a nearby university-funded archaeological dig for bones of the elusive Gospercaps(a local skunk ape legend involving six or so actors done up in fur suits,weird rustic masks,and cloth remnants),that have managed to capture Melinda,covering her naughty bits in some extra bits of cloth they must've had lying around(Gospercaps are sticklers for decency,so the legend goes),and tie her to a tree.The Gospers descend upon the student diggers,raining cryptozoological death on the poor bastards.Meanwhile,local brides-to-be are turning up snuffed,leading Melinda's pop to join forces with a local reporter to pressure the aforementioned detective to bring in Vince for questioning(like he doesn't have
enough
pressure on him to spit out his lines,ferchrissakes?).Soon enough,M.O.S. is on the case,in between cannonballing in the river and shooting basketballs around,of course,and Marshall agrees to pretend to be engaged to Jenny to draw the killer out into the open,leaving many questions to be answered...will M.O.S. help trap the murderer?Will Jenny,tired of Marshall's indecisiveness,wash her hands of this kid stuff and end up holding hands with Southcott instead?Does Southcott really wear ladies underwear?Will the Gospercaps ever untie Melinda from her bark-encrusted prison?Can M.O.S. top their "Summer Fun" single with "Autumn Fun",the obvious choice for a follow up?What is All-Star Pete an "all-star" in exactly?I'll leave you to discover the answers to these for yourselves,when you snag yourselves a copy of this outrageous production.It's something else.
Avatar didn't have Gospercap subtitles.Just sayin'.
Sure,this entry rehashes a few ideas from the earlier Farley;the Marshall character isn't all that far removed from Freaky Farley,the female extrovert is here again(same actress,too),the monsters just outside the town,but despite defying classification for the most part(Comedy?Horror?Drama?All?None?),Monsters is a highly entertaining romp that makes for a well-spent eighty minutes,and when it comes down to it,that's really all that matters,isn't it?Though I had some difficulty seeing much connection to their influences within,I got a huge kick out of it.McHugh's dialogue-based ineptitude(and knowingly nodding,lemon-sucking face whenever he finished stumbling through the lines) had me rewinding his scenes over and over again.These guys must be having a blast making these movies,and it certainly translates to the screen here.I can hardly wait to see their next offering,or some of the previous ones,included in trailers on the dvd.Sign me up for M.O.S. while you're at it,boys.I think I might do thirty straight rope swing cannonballs for one of those hot dogs and a cup of lemonade.Check it out,droogies,it's a pretty good time.For real!
Marshall(Matt Farley) tries phoning Jenny,but her can is off the hook.