The films of transgressive artist Richard Kern are an insider's view into the seedy underbelly of New York City in the eighties,and the unsavoury characters that dwell within it.Tonight's review,a relentless twenty-five minute black and white short,stands as his best work in film to date.I remember seeing the vhs in the case at the original Kim's Video in the East Village,deliberately passing on it the first couple of times,probably out of fear of being labelled a pervert by hot chicks behind the counter or shopping in the store.Eventually though,as a big fan of Kern's,and an even bigger fan of Lydia's,I broke down and bought it,the self imposed triple x rating just too big a draw for me to resist any longer.Some clerk or patron calling me pervert wasn't gonna make me one.Now,the entire weekends I spent on the forty-deuce,they might be harder evidence for me to dismiss...
"For the hundredth time,B.W.,I don't care how much you need lunch."
We meet Lydia Lunch during her hectic and busy day as a phone sex operator/call girl,fielding a call from a freak(Emilio Cubiero)with serious psychological issues.He's purging painful memories from his subconscious,she's roleplaying sexy mommy,playing with her ass through some revealing loungerie.Next caller,you're on the line.This one's Marty Nation,a long-haired greasebag with tattoos who found Lydia's ad in the back of a porno mag.Some hotchatting is exchanged,Marty pulls some creation chowder out of his pantsmeat,and they agree to meet later that day.At her place,he cuts through her fishnets with a stiletto,licks and fingerfucks her quim tunnel,then sets his man missile's sights on her whistling fudge box.While Nation bifurcates her butt cheeks,a steady flow of filth flows from Lydia's yap that'd have Pazuzu crying "Uncle!".You fool around,you fall in love,as Elvin Bishop used to sing way back when.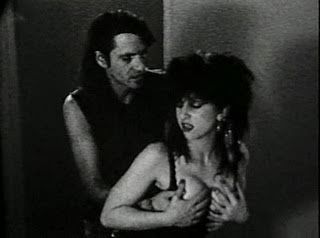 Always the good samaritan,Marty helps examine Lydia's breasts for cancer.
After their...ahem,romantic afternoon...Nation gives a pushy John an extra mouth with his trusty stiletto for trying to solicit his new gal.They drive off to the "Snake Pit" where one of his equally skeevy pals is working out on a weight bench with his cowboy hat on.They exchange obscene pleasantries,and Nation grows jealous over his rustler pal's pawing of the new female merchandise,so he buries the stiletto in the poor bastard's quadricep,then drives off angrily with the hayseed still hanging onto the bumper.When Lydia protests his unneccessary displays of machismo,he stops the car,slams her on the hood of the car,and fucks her with his loaded pistol,handing it off so she can squeeze off the rounds as he cocks her down like a common canine.All is right with the world again.They pick up a young hitchhiker(Lung Leg)who freaks the fuck out when the crusty couple tries a front seat seduction,earning her a rock 'em sock 'em treatment at the merciless meathooks of Marty,leaving her unconscious and bloodied in the dirt.Lydia and Marty bicker over his methodology only to be interrupted by the sound of surrounding police officers.Now,
that's
some first date.
The aptly-named "Snake Pit",where there's a one whore for every two scumbags ratio.Interested?
Kern continues to produce film shorts and music videos,though he'll probably be most remembered for his envelope-pushing style of fetish photography.Lydia remains active,wielding the written word,sound,and pictures as her terroristic tools of the trade,as always.Lung Leg,who claims to have spent the entire shoot tripping face,seems to have disappeared off the map along with the rest of the sparse cast.Form your own conclusions about cats n' chicks like this,and you probably wouldn't be all wrong.Though Fingered is shot in a pretty straight forward,no frills gritty style,the film's dialogue is over the top,and often hilarious.Pick up a copy of the dvd compilation Hardcore:The Films of R. Kern,and check this one out for yourselves.Despite being nearly a quarter century old(Jesus tits,where does the time go!),the film packs quite a few shocks and surprises that any self-respecting woprophile will most likely dig the shit out of,especially if you want a voyeuristic look at Lydia Lunch,near to her sexiest(definitely near to her filthiest,too),unlocking some of her more twisted sexual fantasies for the camera lens.Hunt it down,oh my brothers.Three wops.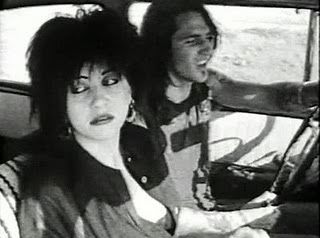 Some days,even assault,rape,murder,and even a hearty gun fucking can seem boring.