We'll ring in the month of November here at the Wop with good seasonal tidings and some excellent genre news for all:the unhinged motherfuckers over at Toe Tag Pictures in Pittsburgh are at it again,serving up some chunk blowing fear fodder with their latest film,Sella Turcica.If you're unfamiliar with the anatomical term(which I'm
sure
you aren't,as most woprophiles here blew through med school like a tsunami through shanty town,right?),it describes a depression in a bone at the base of the skull that's shaped like a saddle,hence,the "turkish saddle" or sella turcica.Fred "The Hammer" Vogel's latest ocularly offensive offering stars genre queen Camille
"I Spit on Your Grave"
Keaton,a grown up Jade Risser,who gorehounds will remember from Nick Palumbo's Murder Set Pieces,an excellent lead performance by Toe Tag regular Damien Maruscak,and a dramatic screenplay collaborated upon by Toe Tag head Don Moore,and Fred and Shelby Vogel.At first glance,Turcica might resemble a gore-soaked,low budget update of
Bob Clark's Deathdream(1974)
,but I'm here to tell you,kiddies,Savini and Ormsby could have never dreamed of the splatterific splendor brought to the silver screen here by FX maestro Jerami Cruise.In fact,I'm gonna spare you screenshots of the picture's brutal finale tonight,and instead urge you to pick up your own copy of the film directly from
Toe Tag's webstore
,and if you don't find yourself blown away and playing back the last twenty minutes of the movie several times in a row,well maybe,you ought to be sharing tear-drenched tissues with your significant other over the latest chick flick,you Sally.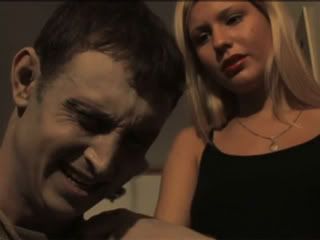 "But I don't wanna hear your boyfriend's stupid fucking mixtapes!"
The story goes something like this:Karmen Robak(Keaton) has enlisted the help of her family to prepare the household for the bittersweet return of her son,Brad(Maruscak),a wheelchair-ridden war vet,paralyzed by a mysterious accident while on active duty,though they remain unaware of the details of the accident or the severity of his condition.Upon his arrival,they're so pleased to see him that they avoid bringing up his obvious sickly appearance.Over the next twenty-six hours Brad's condition grows gravely worse,spiralling into a gruesome conclusion that will change the family forever.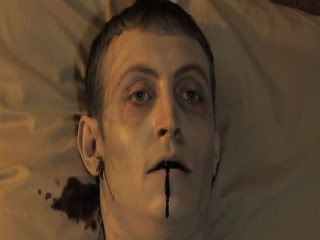 Sgt. Robak(Maruscak) is a wounded war vet you'll not soon forget.
Vogel,the man responsible for the most
gloriously nasty horror trilogy
to ever see the light of day,focuses his camera lens mainly on dramatic tension for the first two thirds of the picture,then effectively throws the proverbial kitchen sink(if it was filled with gruesomely bloody imagery)at the viewer during the finale.Some of the acting performances feel a bit amateurish,and the dialogue is occasionally stilted(I thought I may have counted characters thanking each other for "being there" something like six hundred thousand times),with Pittsburgh rapper "Freestyle"'s turn as Gavin/DJ Gazm being pretty cringeworthy from the instant he appears on screen.You'll be plugging for him to die violently the second he opens his mouth.There's also a pug named "Fulci",and direct reference to Giovinazzo's
Combat Shock(1986)
,if you're paying close enough attention.All in all though,it's good to see Vogel tackling projects with substance and social commentary to them,and the metaphor within tonight's review about how war can change people is well-handled,I think.It's safe to say we can rely on directors like Vogel and Nick Palumbo to consistently redefine the cutting edge of underground horror,and if features like Turcica are any indication,there are good days ahead for the genre,indeed.Three wops.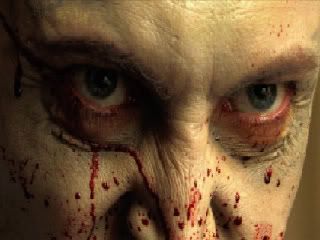 If you thought war was Hell,you should see the Robak household right about now...