Our 100th review this year is upon us,little droogies,so tonight we'll break out a bowl of Tokutei meishō-shu,and kick back with a real doozy under the wop-roscope.This slice of Kaiju gold-painted latex rubber takes me back to a double bill with the Shaw Bros' Inframan(1976) one glorious popcorn-filled evening at the Moonlite DriveIn(R.I.P.) in Wyoming,spent sprawled across the bucket seats of my old man's black 1967 Chevy Impala.Alas what was glorious to an eight year old wop holds different interest to your current narrator nowadays.It's hard to discern the target age for this,the thirteenth Toho film to feature everybody's favorite radioactive rascal,but an educated guess would be four to eight year old kiddies,with asterisk value for those who have a special affinity for small Japanese blokes in rubber suits,smashing miniatures amidst heavy firework explosions.And really,who doesn't?Fukuda took over the directorial duties for the series with Godzilla vs. The Sea Monster(Ebirah,Lord of the Deep)in 1966,and by the time this entry saw the light of day,he had effectively taken every drop of piss out of the monster,replacing the flame-breathing Tokyo terror with a goofy defender of the earth,and hero to all little high-pitched Japanese boys in vasectomy shorts.
Originally intended as a solo vehicle for Jet Jaguar,the colorful Ultraman knock off,designed by an elementary student for a contest,the producers quickly realized the film wasn't gonna cut it,so they added a second Gigan appearance and haphazardly slapped the most juvenile Muppetesque Godzilla suit yet together in a week's time.The film was distributed in America in 1976,as evidenced by the puzzling one sheet above, showing the monsters battling atop the Twin Towers to cash in on De Laurentiis' King Kong,released the same year,deceptive in that none of the kaiju action takes place in any city locations.This film is so laden with stock footage inserts(I see at least three other films right off the bat;War of the Gargantuas,Ebirah,Lord of the Deep,Godzilla vs. Gigan.Anybody out there know the final official tally of borrowed footage?Drop me a line.) that the viewer might think it was co-directed by Bruno Mattei.The producers' blatant laziness and disregard for the loyal G-fan base was rewarded with the dubious distinction of theirs being the first in the series to not sell a million tickets in Japan.That'll learn ya.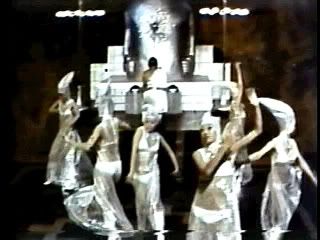 Add "wacky interpretive knife-headed dancing in slo-mo" to the Seatopians' impressively advanced resume.
Goru and Hiroshi, are having a groovy time at the lake,drinking Cokes and punishing little Rokuro by making him bob around in the water in his vasectomy shorts on an aqua-sissy bike made out of colorful cartoon dolphins,arguably the most disturbing toy to ever appear on the silver screen.Their picnic is interrupted when the lakebed suddenly dries up,a dastardly deed perpetrated by the Seatopians,an advanced civilization under the sea who have created their own oxygen supply,manufactured their own sun(!),but require the inventor Goru's robot to guide their guardian beetle,Megalon,to the earth's surface,to strike back at the humans,whose nuclear testing has inadvertently destroyed a third of their underwater country.Let's stop there for a second.They created their own
oxygen supply
,and later,their own
sun
,but a five foot tall brightly colored robot that flies they can't manage?And why would an underwater race have a fucking beetle as a guardian monster anyway?Wouldn't a porpoise or a fucking sting ray make more sense?I'm having trouble getting around the underwater sun,too.Two Seatopian agents plant a bug in Goru's apartment,and have an uninspiring car chase with Hiroshi that ends when the dune buggy driver is thown off their trail by a well-placed rear projected fire that he apparently couldn't just drive around for some unknown reason.Finally,the female-free existence(there's not one woman in the whole stinking movie) Goru's been living pays off,and his brightly colored robot,which he dubs "Jet Jaguar"(I think "Plane Leopard" was already taken)is completed.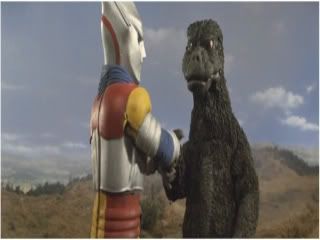 "What it be's,Godzeezy my neezy!" says Jet Jageezy,as they exchange a soul handshake.
The Seatopians take control of the robot and fly him to the lakebed,where,after awakening Megalon like you might wake your wife up for work("C'mon,Megalon!Rise up!Wake up,Megalon!"...really?No crazy awakening spells or kooky songs?),they direct the bellicose beetle to Tokyo.Or a dam.One or the other.Luckily,Goru has invented a remote control transmitter,you know,just in case some haters take control of the robot,in the form of a groovy seventies necklace that he wears around his neck.This sends the colorful metallic fellow to Monster Island to get Godzilla,which he does with a series of hand gestures the giant radioactive monster naturally understands,and they're soon travelling back to Japan,whose empty hillsides are the battleground where Megalon squares off against some stock footage of tanks,fighter jets,and Masers from earlier Godzilla movies.Jaguar somehow programs himself to increase to the size of the monsters,and fights the giant beetle while Godzilla swims toward the Japanese shores.The Seatopians,sticklers for a fair fight,contact Star Hunter M Universe(!!)and ask to borrow Gigan for just such a purpose.Let's stop a second.They can contact Star Hunter wherever the fuck that is,probably eons away or some shit,but they couldn't shoot us an e-mail a few thousand feet above,telling us to knock off the testing or they'd sic their killer beetle on us.I'm not even gonna touch the robot's self-enlarging in times of crisis programming.Jet Jaguar puts his dukes up against Megalon,but his monkey ass is handed to him when Gigan shows up to take Meg's wing casings...errr,back.Godzilla finally makes the scene and the whole affair degenerates into a tag team wrasslin match between four latex libradores,exemplified by an
embarrassing flying drop kick
,where Godzilla does a slow flying backstroke into an empty Megalon suit.Godzilla bails for the sea,Jet Jaguar shrinks back to human size and returns control to Goru,and Megalon and Gigan fly off to lick their wounds,the same way audiences do after screening this movie.
Hundreds of Japanese toy company ceo's simultaneously erupted in uncontrollable laughter.Foolish consumers,they have you now...
Alpha released the now out-of-print dvd of tonight's feature in 2001,and DigitalDisc paired it with Godzilla vs.The Smog Monster as a double feature disc,both discs are pretty hard to come by these days with copies often fetching a pretty penny on eBay.There's a region 4 disc also floating around for those of you with all region capable players.If you threw the DigitalDisc print("odzilla vs. Megalo",as the pan n' scan titles exclaim)that I culled some of the screenshots for the review from in the toilet,buried it in the bottom of a dumpster,and ran it through a woodchipper,it couldn't make it any scratchier or choppier.Grainy would be a marked improvement.In any incarnation it makes for some empty-headed laughter and half of a good/bad movie double bill,indeed.One wop.
Two and a Half Japanese Men(and Their Brightly Colored Robot) will return after these messages.