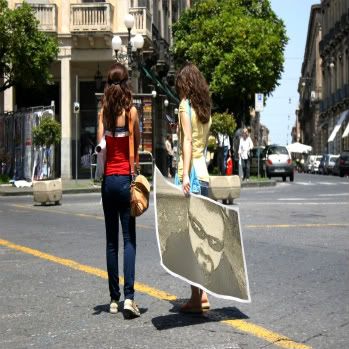 Two brawdz out shopping for essential wall candy...
As we speed towards the end of the biggest year ever here at the Wop(much to the dismay of all naysayers,d-bags,jealous bitches,genre scene Johnny-come-latelys,and all the cult/exploitation blogs interwebz-wide from number three on down...you guys look like fucking
ants
from up here!Bwahahaha!),I figured it'd be boombalahtinous of me to take a moment out of my busy evening of nicotine,caffeine,and acute megalomaniacal narcissism to get you woprophiles up to specs on the coming month of events.First and foremost,shout outskis to the most pedigree chum I've got,a guy who digs film as much as I,and my writing partner on several upcoming film projects(genre,of course!) that'll blow all this recent mediocrity right outta the big screen agua.Of course,I'm speaking upon the Doctor,who you'd do well to add over at
Facebook
,if you're looking for a standup geezer who'll NEVER let you down,no matter what.Best friends don't grow on trees,and even if they did,I still wouldn't want another one.No homo.While we're doling out acknowdgements,
Pluck You Too
is another top notch website you oughta check out,and further than that,add directly to your favorites(apply directly to the forehead?).We'll be shuffling an eclectic mix of the best of cult,horror,and exploitation as we bid 2010 farewell,covering some teenage sex comedies,gialli,slashers,new releases,big budgeted flops,and of course,genre-osity from my fellow wops in the next few weeks.As always,filmmakers,if you'd like to see your work under the woproscope,
e-mail me
for a shipping addy,and we'll take it from there.The same goes for any genre sites that'd like to exchange banners or links,as well.Also,this month'll see the outset of the glorious "Wop-ette of the Month" feature.You don't have to be a professional model,scenester,OR even Italian(!) to get in on the hijinks,just send the photo you'd like to see featured in jpg or bmp format to the e-mail addy I hyperlinked above,and be the object of desire for thousands of woprophiles and envy of all yer boob-havin' pals,appearing in flesh-tones(or B/W)on this very site.Nudity is not a requirement,btw,but it's pretty choice,don'tcha think?Well,that oughta do it for now.Keep reading,voting us up over here,and spreading the good word,droogies,and I'll do my best to keep you well entertained.A promise I'll have no problem keeping!