"Inent(sp) of Porno holocaust is to astonish women eventually." says movies.syl.com about tonight's movie.They also say,"Good characters struggle as awfully as donkeys.",and "Dramatic scrimmage is crank in this nonsense."Now,I'm not sure if exploitation sensation Joe D'Amato was aware just how crank his scrimmage was this time around,but it was obvious to the cats over at that site,I guess.Nevertheless,I think random words cut n' pasted to form nonsense into a movie review(they aren't the only ones guilty doing it either,I've read some
other
blogs)might have been the optimum way to tackle tonight's offering from Papa Joe.He handled porn masterfully,he handled horror well in one or two instances.When he mixed the two together,the result was always the same.Something like
this
.Nico Fidenco's disco pop soundtrack doesn't make this one any easier to get through.The cast,which includes Annj Goren,who you'll no doubt remember from dick jerkers like Sesso Nero(Black Sex)and Due sessi in uno(Two Sexes in One),Mark Shannon,Dirce Funari,Lucia Ramirez,and the Grim Reaper himself,Luigi Montefiori(he also wrote the cough,cough...screenplay),have themselves a whole lotta on-screen sex here...Apart from Montefiori/Eastman,who wisely keeps his cazzies off camera.And awaaaaay we go...
Radioactive monster or Rudy Ray Moore with a Sham Wow tied around his head?You decide,rat soup mothafuckas.
A team of scientific researchers/uber-horny rascals is assembled for a voyage by sea to a deserted island in Santo Domingo that was once a nuclear testing site to investigate strange biological mutations like massive crabs,rats,and turtles...oh yeah,and the legend of a lone family who forgot to evacuate during the bomb tests,resulting in a pasty-faced radioactive negro with an equine-sized hunk o' pantsmeat and a propensity for rape and murder.Take lotsa pictures,guys.Before they embark on their epic journey,carnally frustrated female team members orally explore each other's axe wounds,the "contessa"(Goren) checks into the nearest brothel for a round of "Jungle loads down my gullet" with a pair of oversexed tribesmen,and on the beach,Captain O'Day(Shannon)introduces Annie(Ramirez) to an eggbag so warty it resembles the
Nucleon
from Johnny Sokko.Once the team arrives on the island,they set up camp roughly eight feet from the shore amidst heavy breathing and some shaky monster's eye view camerawork.After Dr.Lemoir(Montefiori) takes some geiger readings on the beach,Simone(Funari) and the contessa,overcome by the sexiness of the desolate isle,take the opportunity to go Degeneres on each other again,this time upon a massive driftwood log.Annie and the Cap'n are next to explore the erotic possibility of said log.Then Simone forces herself upon her rock-preoccupied husband up against a palm tree.The horrible hanky-headed hoogan peep toms their coital endeavor,then sinks the three pump chump in the frothy drink.He then stuffs his oversized radioactive man-root in Simone's yap,killing her.Death by cock.That's a first,huh.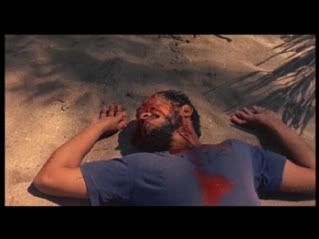 Rather than bother trying vainly to sneak screenshots of hardcore triple X action from the film past the nazis at Photobucket,here's a black guy with veal parmigiana spirit-gummed to his face.
The monster then dispatches a pair of assistants,sending the remaining team members into a panic,as evidenced by their slightly hurried jogging.The black beast scoops up Anniein the confusion,carrying her to his cave lair,where she discovers a journal.It's always good for radioactive sociopaths to write down their feelings,in between kill/rape sprees.O'Day,Lemoir,and the contessa stumble upon the face-fucked remains of Simone,while back at the cave,the monster brings Annie fruits to eat.Awww,rag-headed rapist,you're not so bad afterall.At the camp,the cap'n,wrought with distress over his missing love,serves up a doggie style dick-down to the contessa,who dramatically weeps as she yanks his junk out,to the dismay of Lemoir who walks off in disgust.Sure,O'Day blasts spooge on the contessa's lower back,but it just isn't the same as Annie.The cap'n stumbles upon one of the workers lying across death's doorstep,who chokes out the dastardly details of his demise before snuffing it.The monster sneaks up on Lemoir at the campsite,and chokes him the fuck out,before issuing a beastly backhander to the contessa,who had been swimming nude,assaulting her unconscious gravy boat with radioactive blast of monster mustard.The cap'n jogs back,speargun in hand,finding the contessa naked and dead with a bloody mess between her thighs.He jogs off again,this time finding Annie,and spears the horny hanky head in the labonza.The monster pulls the spear out and raises it above his head to shiv O'Day,who immediately falls to his back in a moment of passive bitchdom,but Annie orders the beast not to kill him,so he refrains,and falls down dead instead.The two survivors leave the eerie isle by rowboat,pausing for a frothy fuck n'suck,before being spotted waving and yelling(with a third passenger momentarily popping his head into the frame) by a passing cargo ship.Saved!Viewers of this atrocity are not so lucky...
Luckily,a nearby native saw Luigi choking on his Bolognese,and administered the Heimlich in the nick of time.
D'Amato,who makes an uncredited cameo here as a reporter,followed this mess up with Le notti erotiche dei morti viventi,or "Sexy Nights of the Living Dead",which utilized much of the same cast and location,with much of the same headscratching results.Mark Shannon continued his illustrious porn career,occasionally pausing for D'Amato genre fare like Le notti,Emperor Caligula:The Untold Story, and Rosso Sangue.Montefiori/Eastman appeared most recently in 2008's Grindhouse Universe.Funari would only appear in one more film,Killing of the Flesh,a few years later.Ramirez,strangely uncredited as the female lead here, was another D'Amato regular,showing up in Rosso Sangue and Le notti as well as several hardcore appearances.I can still remember my ex-wife's disgust when the German Kult Video print of tonight's entry showed up in my mailbox years ago."This is
porn
,you fucking pervert!"Is it porn thinly disguised as horror,though,or vice versa?Or perhaps neither.Certainly not the most enjoyable D'Amato vehicle in his long catalogue,but if inept gore,disco music,and HPV-riddled testicles are your cup of tea,then,by all means,have at it.Media Blasters released a new disc a while back,but one copy of this is more than enough for me.One wop.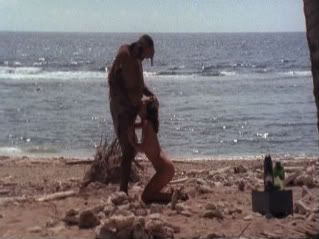 Heeeey,your African is in my Italian!